What is a Microstrip Antenna?
The microstrip antenna was developed to enable the convenient integration of an antenna and driving circuitry within a communication system, either on a common printed circuit board or a semiconductor chip. This invention, attributed to Carver and Mink in 1981, as well as other contributors like Pozar in 1992, offered advantages such as high dimensional accuracy, which was challenging to achieve using traditional fabrication methods.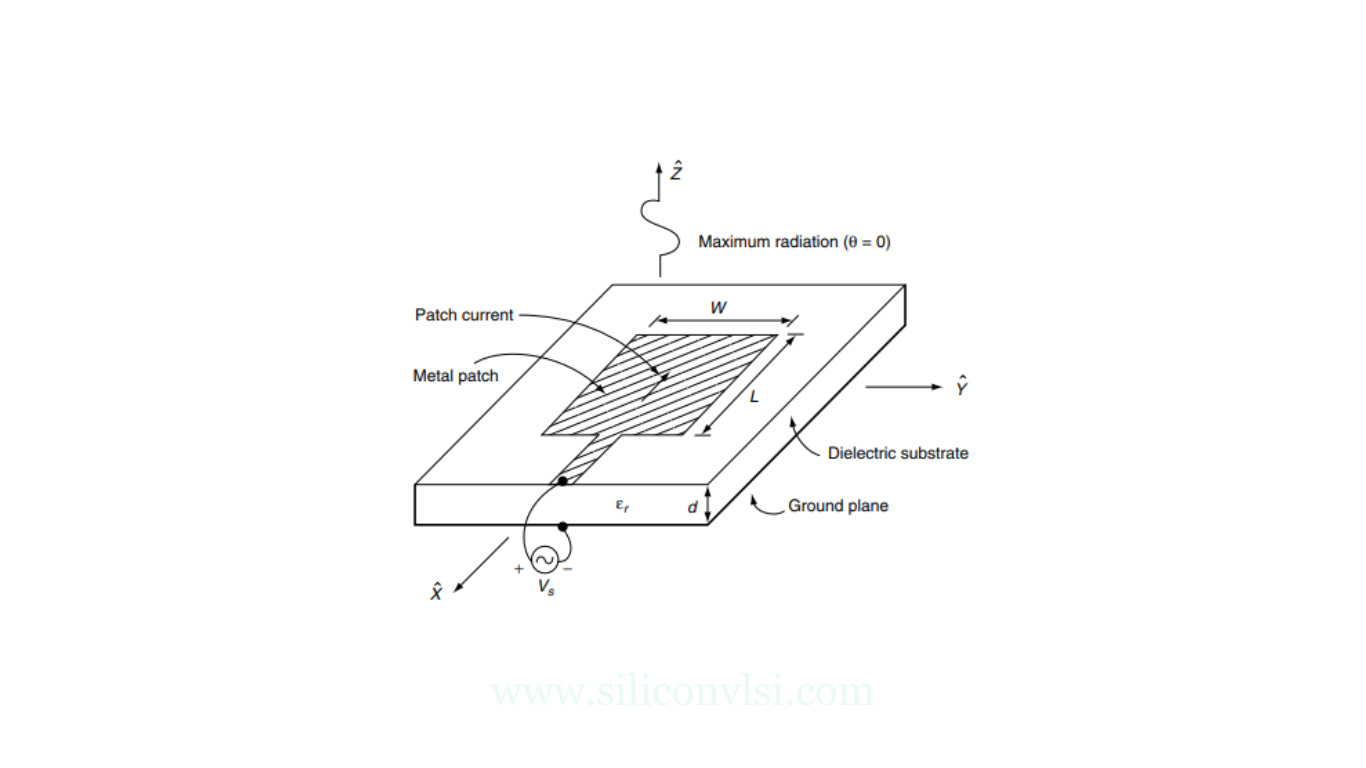 Integrated-circuit technology, utilized in microstrip antenna fabrication, provides precise dimensional control. The geometry of the microstrip antenna involves a thin dielectric substrate (typically with thickness d << wavelength, denoted as l), a complete metalization on one surface, and a metal 'patch' on the other side. While various shapes for the metal patch are possible, a rectangular shape is commonly used.
The antenna can be excited in different ways, with one common approach being feeding from a microstrip line, connected at the center of one of its edges. This microstrip line can be linked to feeding circuitry or directly connected to a signal source across the microstrip line and the ground plane.
Microstrip antennas predominantly radiate in the broadside direction (perpendicular to the substrate) and ideally exhibit no radiation in the end-fire direction (along the substrate surface). Design considerations include the resonance condition, where the antenna length (L) is approximately half a wavelength in the dielectric medium at the operating frequency. The width of the antenna (W) influences the input impedance level.
The microstrip antenna functions as a resonant cavity with open sidewalls, producing radiation through fringing fields. However, its bandwidth is relatively narrow compared to other antenna types. Despite this limitation, the microstrip antenna remains suitable for various communication applications due to its advantages in integration and dimensional accuracy.
Advantages of Microstrip Antenna
Microstrip antennas offer several advantages, including:
Lightweight: Microstrip antennas are lightweight, making them suitable for applications where weight is a critical factor.
Low Cost: The manufacturing and materials for microstrip antennas are cost-effective, contributing to their affordability.
Ease of Installation: Microstrip antennas are relatively easy to install, simplifying the deployment process.
Disadvantages Microstrip Antenna
Microstrip antennas also have some drawbacks, such as:
Inefficient Radiation: Microstrip antennas may exhibit inefficient radiation patterns, impacting their overall performance.
Narrow Frequency Bandwidth: These antennas typically have a narrow frequency bandwidth, limiting their versatility across different frequency ranges.
Applications Microstrip Antenna
Microstrip antennas find applications in various fields, including:
Spacecraft Applications: Microstrip antennas are utilized in spacecraft for communication purposes, benefiting from their lightweight and low-profile characteristics.
Aircraft Applications: Microstrip antennas are employed in aircraft communication systems due to their lightweight nature and ease of integration.
Low-Profile Antenna Applications: Microstrip antennas are suitable for low-profile applications where a compact design is essential.
These applications highlight the versatility and practicality of microstrip antennas in situations where their advantages outweigh their limitations.