What are Mixers in RF?
A mixer's primary function is to convert radio frequency (RF) energy into intermediate frequency (IF) energy with minimal loss and without generating spurious responses. The mixer takes inputs from the RF signal and a sinusoidal signal from a local oscillator (LO), producing an output at the intermediate frequency. The mixing process involves multiplying the RF signal by the local oscillator signal and subsequently low-pass filtering the product.
The efficiency of a mixer is quantified by the conversion loss, defined as: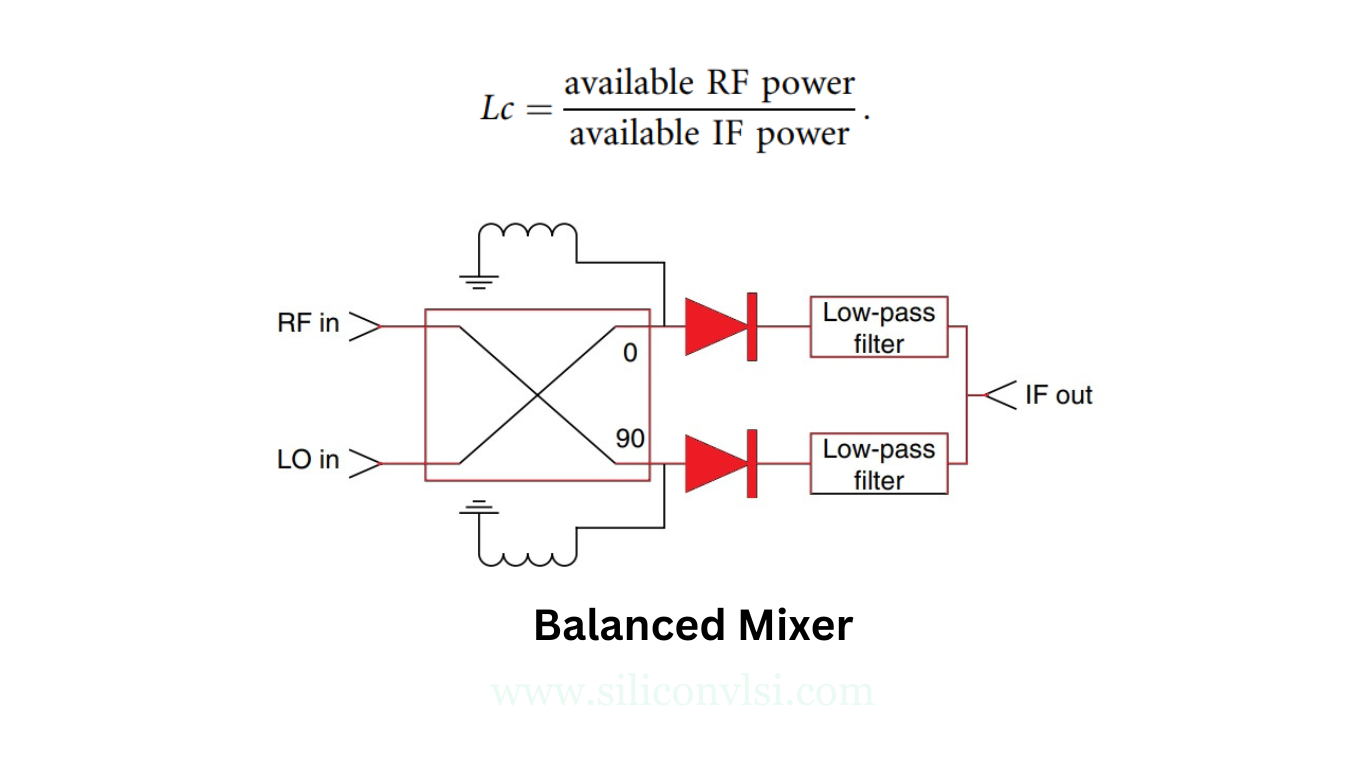 Conversion loss measures how effectively the mixer converts RF signal power into IF power. It represents the power loss incurred during the conversion process.
Balanced Mixer
One challenge in mixers is the presence of noise from the LO signal appearing at the IF. A technique to mitigate LO noise is through the use of a balanced mixer. A balanced mixer employs a four-port hybrid junction, as depicted in Figure 1. The LO and RF signals are applied to two ports, and diode mixers are present in the remaining two ports. At one diode, the sum of the RF and LO signals emerges, while at the other diode, the difference of the two signals is obtained. Both diode mixers should have similar characteristics and be well-matched.
The IF signal is derived from the subtraction of the two diode outputs. Notably, LO noise at the two diode mixers is in phase, leading to cancellation at the output. This balanced configuration helps eliminate LO noise, contributing to a cleaner and more reliable intermediate frequency output.
Mixer Isolation Measurements
In an ideal mixer, the RF and LO signals should not be present at the IF port, and the LO signal should not be present at the RF port. However, in practical scenarios, there are three important isolations to consider:
RF to IF Isolation
This measures the ability of the mixer to prevent the RF signal from appearing at the IF port. In an ideal case, there should be minimal to no leakage of the RF signal to the IF port.
LO to IF Isolation
This assesses the mixer's capability to prevent the LO signal from appearing at the IF port. It is crucial because the LO signal is typically stronger than the RF signal. Minimizing LO leakage to the IF port is essential to prevent potential issues downstream in the signal chain.
LO to RF Isolation
This evaluates the mixer's effectiveness in preventing the LO signal from reaching the RF port. As the LO signal is often much stronger than the RF signal, ensuring minimal LO leakage to the RF port is critical. Excessive LO at the RF port can lead to undesirable consequences such as unintentional radiation at the antenna port, potentially violating regulatory requirements.