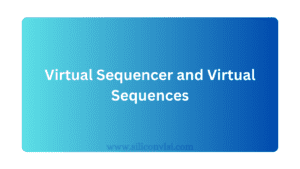 Virtual Sequencers and Virtual Sequences, serve as indispensable facilitators of the verification process. To comprehensively understand these components and their utility, let's delve into their definitions and applications:
What is a Virtual Sequencer?
Within a VLSI verification environment, a virtual sequencer stands as a cornerstone, assuming the role of a coordinator who adeptly manages the flow of transactions and stimuli directed at various segments of the design under test (DUT). Here's a closer look at its operations:
he virtual sequencer is tasked with the generation of transaction sequences, each tailored to scrutinize specific facets of the DUT. These transactions emulate actions or data transfers intrinsic to the design, encompassing operations like reading from and writing to memory blocks.
The sequencer efficiently disseminates these transactions to diverse components within the verification environment. These recipients include drivers and monitors responsible for executing these transactions, ensuring the accurate and coordinated execution of test scenarios. The virtual sequencer plays a pivotal role in harmonizing the actions of various sequencers, ensuring the precise orchestration of interactions among components.
What is the Application of Virtual Sequencer?
Virtual sequencers play a pivotal role in establishing a well-structured and meticulously organized verification environment. They empower the creation and proficient management of test scenarios and sequences, ensuring a broad spectrum of test cases for subjecting the DUT to scrutiny. The advantages encapsulated in virtual sequencers comprise:
Reusability: Virtual sequencers are versatile, allowing their seamless reuse across diverse testbenches and projects, thus enhancing their efficiency within the realm of verification.
Scalability: These components provide a scalable framework, affording users the flexibility to incorporate additional sequences and scenarios as the intricacy of the DUT expands.
Modularity: Virtual sequencers promote a modular approach by segregating sequencing logic from the test scenarios, thereby fostering modularity and ease of maintenance within the verification environment.
What is Virtual Sequences?
Virtual sequences are intimately linked with virtual sequencers, constituting an integral part of their functionality. They represent a sequence of transactions meticulously tailored to verify specific functionalities or behaviors inherent to the DUT. Let's delve into their utilization:
Virtual sequences are instrumental in crafting precise test scenarios to be executed upon the DUT. These scenarios are often categorized in alignment with the verification objectives to ensure methodical testing.
Much akin to their virtual sequencer counterparts, virtual sequences contribute to the generation of transactions directed at the DUT. These transactions are seamlessly integrated into the sequence, primed for execution. Virtual sequences are expressly designed for the performance of functional verification, focusing on validating that the DUT adheres to the stipulated design specifications.
What is the Application of Virtual Sequences?
Virtual sequences serve as the fundamental building blocks of the verification process, empowering the thorough examination of various facets of the DUT. Their utility extends to:
Focused Verification: Each virtual sequence zeroes in on specific functionalities or behaviors exhibited by the DUT, simplifying the task of pinpointing and addressing issues that may surface during testing.
Parallel Testing: Multiple virtual sequences are capable of concurrent execution, enhancing the overall efficiency of the verification process by expediting testing.
Reusability: Virtual sequences are highly reusable, making them valuable across diverse projects and testbenches, thereby contributing to a more efficient and standardized approach to verification.
Conclusion
Virtual sequencers and virtual sequences emerge as integral constituents within VLSI verification environments. They deliver a meticulously organized approach for the definition, management, and execution of test scenarios, thereby ensuring a comprehensive and efficient verification process for the DUT.