Resistors
Resistors are electronic components that introduce specific levels of resistance to an electric current in electronic circuits. Ceramic resistors encompass various resistor types, and the classification often depends on the perspective of the describer. Laymen or electricians may broadly define a ceramic resistor as any resistor enclosed in ceramic, while engineers and technicians specifically designate resistors that use ceramics to control resistive values as ceramic resistors.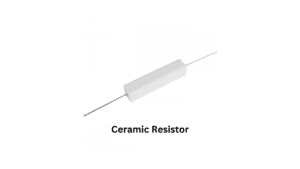 Ceramics serve as a common internal component in various resistor types. In carbon film or resistive wire resistors, the resistive material adheres to the exterior of a ceramic core, typically shaped like a cylinder. These cores offer a non-conductive base to support the conductive components and determine the resistor's overall shape and size.
How to choose a Ceramic Resistor?
Ceramic is chosen for its insulation and thermal properties, particularly in resistors requiring external insulation and enhanced thermal endurance. Examples include resistors where the resistive wire is wound around a ceramic core, enclosed in a ceramic block or cylinder. The combination of external ceramics, internal ceramics, and metals allows these resistors to withstand high temperatures without damage.
The resistive value of a ceramic resistor is influenced by the ratio of carbon to ceramic material. A higher carbon ratio results in a lower resistive value, while a higher ceramic ratio leads to increased resistance. After establishing the appropriate ratios, the mixture is compressed for shaping and then kiln-fired to set the ceramic. These resistors often feature an external shell made of pure ceramic material for additional insulation.
While true ceramic resistors find widespread use in various electronic circuits and devices due to their ability to endure high temperatures, they generate significant electrical noise. Consequently, ceramic resistors are less suitable for applications involving sensitive radio receivers or devices susceptible to interference.