What is Application Software?
Application software refers to software designed to perform specific functions for a user. When a user directly interacts with a software program, it falls under the category of application software. The primary purpose of application software is to assist users in carrying out specific tasks. Examples of application software include well-known programs like Microsoft Word and Excel, along with popular web browsers such as Firefox and Google Chrome.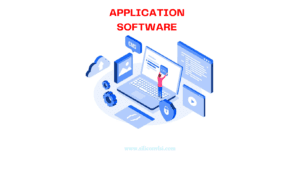 Additionally, application software extends to the realm of mobile apps, encompassing a wide range of functionalities. Examples of mobile apps include communication tools like WhatsApp, games like Candy Crush Saga, and app versions of various services like weather updates or transportation information. There are also apps facilitating user-business interactions.
Application software covers a diverse array of programs, including those related to the Global Positioning System (GPS), graphics, multimedia, presentations, desktop publishing, and more. Essentially, any software designed to directly serve the user in performing specific tasks falls under the umbrella of application software.
What is the Functions of 

Application Software?
Application software serves a broad array of functions, playing a pivotal role in assisting users across diverse tasks. For instance, in Information and Data Management, application software streamlines the organization and retrieval of information, simplifying user interactions with relevant data. Document Management involves the efficient handling of documents through exchange systems, fostering seamless sharing and collaboration among users.
Additionally, application software supports Visuals and Video Development, empowering users to create and edit multimedia content with ease. Communication Tools, including email, text messaging, and collaborative platforms, enhance communication and teamwork. Crucially, application software is indispensable in Accounting, Finance, and Payroll Management, offering tools for efficient financial operations. Resource Management is facilitated by Enterprise Resource Planning (ERP) and Customer Relationship Management (CRM) systems, ensuring comprehensive management of resources and customer relationships.
Project Management software aids in planning, execution, and monitoring, ensuring effective project outcomes. Business Process Management optimizes organizational workflows, enhancing efficiency. Educational Software, such as Learning Management Systems (LMS) and e-learning systems, supports educational content delivery and management. Tailored for healthcare purposes, Healthcare Applications assist medical professionals in tasks related to patient care and record keeping. In summary, application software is a versatile tool that addresses the dynamic needs of users across various industries and domains.