Internet services
Internet services grant us access to an extensive repository of information, encompassing text, graphics, sound, and software, all readily accessible via the Internet. The diagram below elucidates four distinct categories of internet services.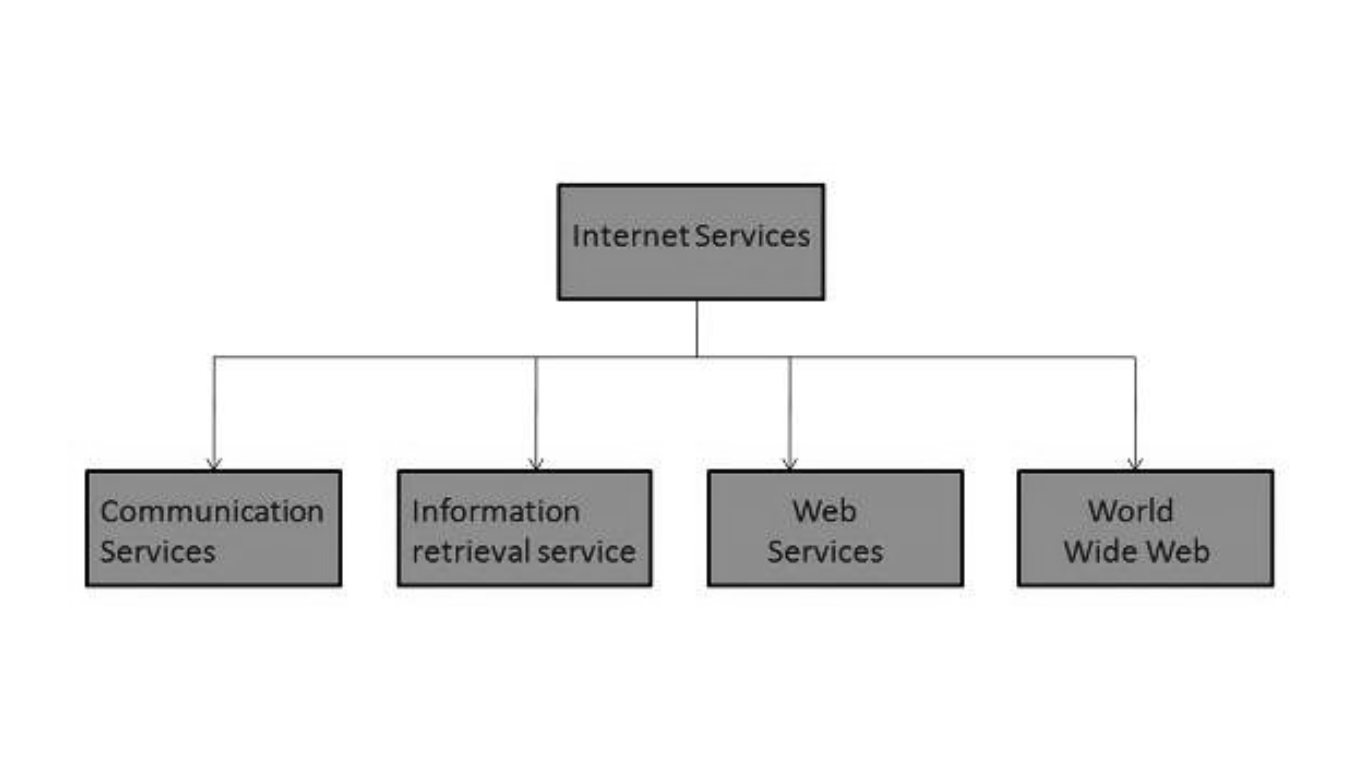 The internet bestows an array of services upon its users, facilitating the uploading and downloading of files and data. It functions as a reservoir of knowledge, providing the means to access or retrieve information as needed. Its popularity attests to the diversity of resources it furnishes. Particularly, web services have gained prominence owing to these offerings. To effectively utilize the internet's capabilities for tasks such as procuring or exchanging substantial volumes of data, encompassing software, audio clips, video clips, text files, and various documents, internet services become indispensable. The process of connecting to the internet necessitates the employment of an internet service, which expedites the transfer of data from internet servers to your computer. Among the frequently utilized internet services are FTP, Telnet, VoIP, and more. This article endeavors to explore the various types of available internet services.
How to connect your computer to the Internet?
Establishing Your Computer's Internet Connection Before delving into the realm of Internet services, let's first comprehend how to establish a connection between your computer and the Internet. Follow these steps:
Step 1: Install the requisite hardware, including a modem and an Ethernet cable, along with essential software like LAN drivers.
Step 2: Initiate an initial connection using an Ethernet cable or a wireless link.
Step 3: Access the default IP address of the router.
Step 4: Employ the login credentials provided by your Internet Service Provider (ISP) to initiate an Internet connection.
Step 5: Preserve your configuration settings.
Internet Services To proficiently access and exchange substantial volumes of data, encompassing software, audio and video clips, text documents, and more, internet services play a pivotal role. These services serve as the gateway to connecting to the internet, facilitating the transfer of data from internet servers to your local machine. Some of the commonly utilized internet services include:
Communication Services
E-commerce
File Transfer
NewsGroup
Time Services
Web Services