Usenet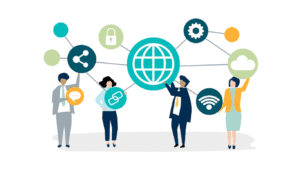 Usenet, a portmanteau of "User Network," functions much like a traditional Bulletin Board System, providing users with a platform to post articles or messages on a wide range of topics. Newsgroups in Usenet are organized hierarchically, similar to the structure of the Domain Name System (DNS). In essence, Usenet represents a collection of user-submitted articles or posts covering diverse subjects, all of which are distributed to servers across the global network.
Advantages of Newsgroups
Newsgroups share some similarities with mailing lists, but they tend to exhibit a more robust structural framework, making them likely to persist longer than mailing lists. They are generally easy to locate and often have moderators who oversee the discussions, ensuring that they stay on-topic and maintain a positive social atmosphere.
Disadvantages of Newsgroups
However, newsgroups may not provide the same immediacy as emails or even mailing lists. Responses can experience delays, sometimes stretching to at least a day or even longer. It's important to note that the information shared in newsgroups is contributed by users who may not possess specialized knowledge in the domain they are discussing. Therefore, it's advisable to approach the information with some skepticism, have alternative sources available, and conduct additional research before relying solely on the content shared in newsgroups.