WLAN
WLANs are commonly known as Wi-Fi (wireless fidelity), and they've given rise to hotspots in public areas like libraries, malls, and cafes, offering Wi-Fi Internet access. However, hotspots can vary by provider, require payment, or offer limited security.
IEEE 802.11 networks can be configured in two ways: Independent Basic Service Set (IBSS), known as ad hoc networks, for temporary, small-scale, direct peer-to-peer communication; and Basic Service Set (BSS), referred to as infrastructure networks, which use access points (APs) to form overlapping cells, creating larger networks. When multiple BSSs are connected via a distribution system (DS), an Extended Service Set (ESS) is formed, allowing mobile stations to roam seamlessly between cells.
A WLAN comprises access points and terminals equipped with WLAN connectivity. Optimal placement of access points is essential and is determined by measuring the relative signal strength of these access points. Unlike wired LANs, where physical access to the building is required, WLANs open up access to resources in an intranet.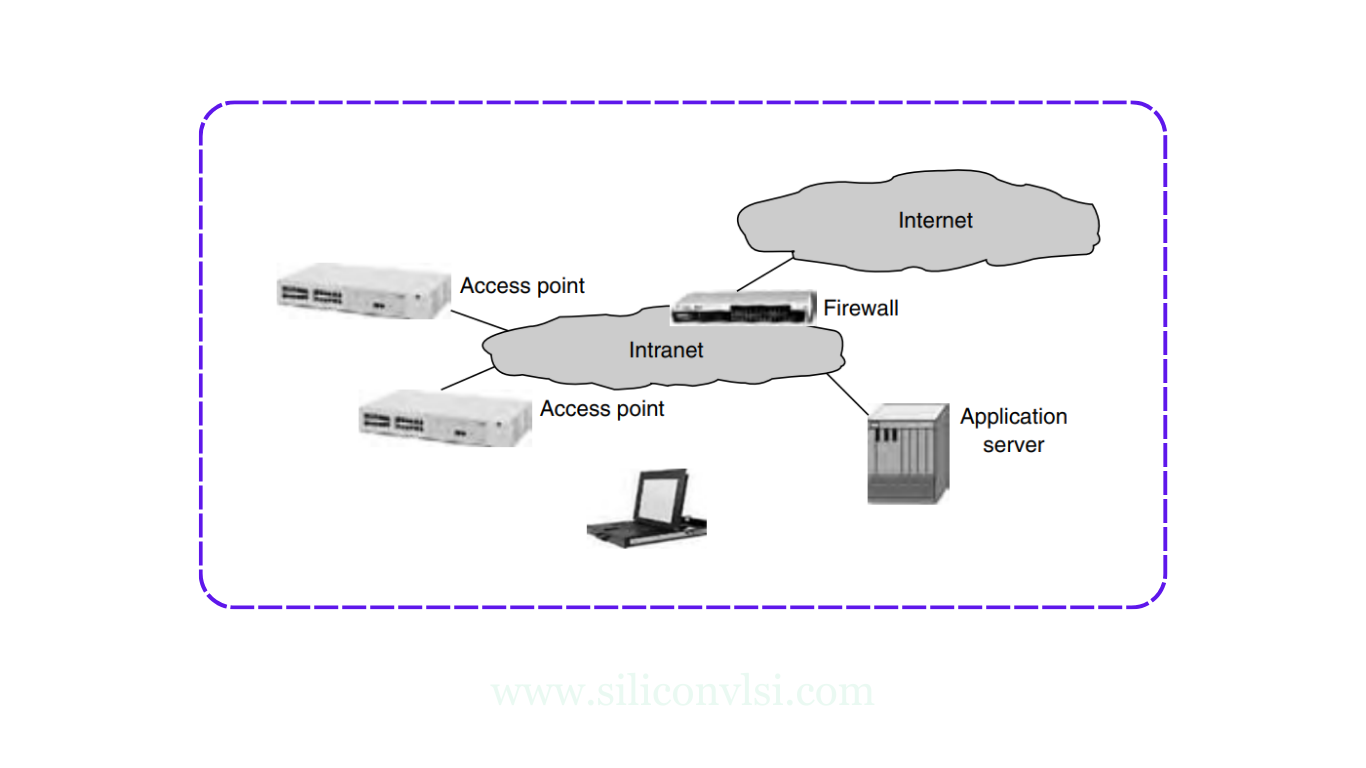 Key points in the WLAN architecture
Access Points and Terminals:

Description: WLAN consists of access points and terminals (devices) with WLAN connectivity.
Importance: The strategic placement of access points is major, and measuring signal strength helps determine optimal locations.

Security Considerations:

Intranet Access: Placing access points in a corporate network provides access to resources in an intranet.
Security Challenge: Unlike wired LANs, where physical access is a prerequisite for network connection, WLANs can be susceptible to unauthorized access and eavesdropping.

WLAN Standard (IEEE 802.11):

Definition: The WLAN standard is defined by the IEEE 802.11 WLAN protocol, an extension of the IEEE 802.3 standard for wired LAN.
Evolution: WLANs can be based on various standards such as 802.11a, 802.11b, 802.11g, and the evolving 802.11n for higher data rates.

Wireless Fidelity (Wi-Fi) and Hotspots:

Wi-Fi Definition: Another name for WLAN is wireless fidelity (Wi-Fi).
Hotspots: Public spaces like libraries, malls, airports, etc., offering Wi-Fi access, known as hotspots, have become significant. However, challenges include varied providers and security concerns.

Network Architecture Configurations:

Independent Basic Service Set (IBSS): Also known as ad hoc networks, devices communicate directly without a wired network connection. Typically formed temporarily for specific purposes.
Basic Service Set (BSS): Also known as infrastructure networks, where an access point acts as a central station for each cell, forming an infrastructure for multiple cells. An extended service set (ESS) connects multiple cells through a distribution system (DS).

ESS (Extended Service Set):

Definition: ESS is formed when multiple overlapping cells connect via a distribution system.
Access Points: Access points in an ESS serve as an Ethernet bridge between the wireless LAN and the wired network infrastructure.

Mobile Stations and Roaming:

Mobile Stations: Wireless stations (devices) can be mobile.
Seamless Roaming: Devices can roam seamlessly from one cell to another within an ESS, ensuring continuous coverage throughout the service area.
In conclusion, the architecture of a WLAN involves strategically placed access points, considerations for security, adherence to IEEE 802.11 standards, the prevalence of Wi-Fi and hotspots, and configurations such as ad hoc (IBSS) and infrastructure (BSS/ESS) networks. Mobile stations in an ESS can roam seamlessly, providing uninterrupted coverage.
Advantages of WLANs (Wireless Local Area Networks)
Clutter-Free Environments:

Description: WLANs eliminate the need for physical cables, providing clutter-free homes, offices, and other networked spaces.
Benefit: Aesthetically pleasing environments without the need for visible cables.

Scalability:

Description: WLANs are scalable, allowing devices to be added or removed from the network with greater ease compared to wired LANs.
Benefit: Flexible network configurations to accommodate changing device requirements.

Portability and Flexibility:

Description: Systems are portable within the network coverage, and access is not restricted by cable lengths.
Benefit: Users have the flexibility to move within the network without being bound by physical connections.

Ease of Installation and Setup:

Description: Installation and setup of WLANs are more straightforward compared to wired counterparts.
Benefit: Reduced complexity and time for network deployment.

Cost Reduction:

Description: Equipment and setup costs for WLANs are generally lower than those for wired LANs.
Benefit: Cost-effective implementation and maintenance of wireless networks.
Disadvantages of WLANs
Signal Interference:

Issue: Since radio waves are used for communication, WLAN signals may be noisier and susceptible to interference from nearby systems.
Challenge: Ensuring reliable and interference-free communication can be a concern.

Security Considerations:

Issue: Greater care is needed for encrypting information in WLANs, and they are more prone to errors.
Challenge: Security measures need to be robust to protect against unauthorized access and potential data vulnerabilities.

Bandwidth Limitations:

Issue: WLANs may require greater bandwidth than wired LANs, leading to potential limitations.
Challenge: Ensuring sufficient bandwidth to meet the communication needs of devices on the network.

Speed Limitations:

Issue: WLANs are generally slower than wired LANs.
Challenge: Users may experience slower data transfer rates compared to wired connections.
In summary, WLANs offer advantages such as clutter-free environments, scalability, portability, ease of installation, and cost reduction. However, they come with challenges related to signal interference, security considerations, bandwidth limitations, and speed. Careful planning and implementation are essential to maximize the benefits of WLANs while addressing their limitations.