What Is Dielectric?
A dielectric is a material with poor electrical conductivity that possesses the ability to store an electrical charge, primarily through a phenomenon called Dielectric Polarization. This property makes dielectrics suitable for constructing capacitors, devices designed to store and release electrical energy.
What is the Dielectric Constant?
The Dielectric Constant, often denoted as κ (kappa), represents a material's ability to hold electric flux within it. It is defined as the ratio of the permittivity (a measure of a material's ability to permit the passage of an electric field) of the substance to the permittivity of free space (often symbolized as ε0). Mathematically, the Dielectric Constant is expressed as: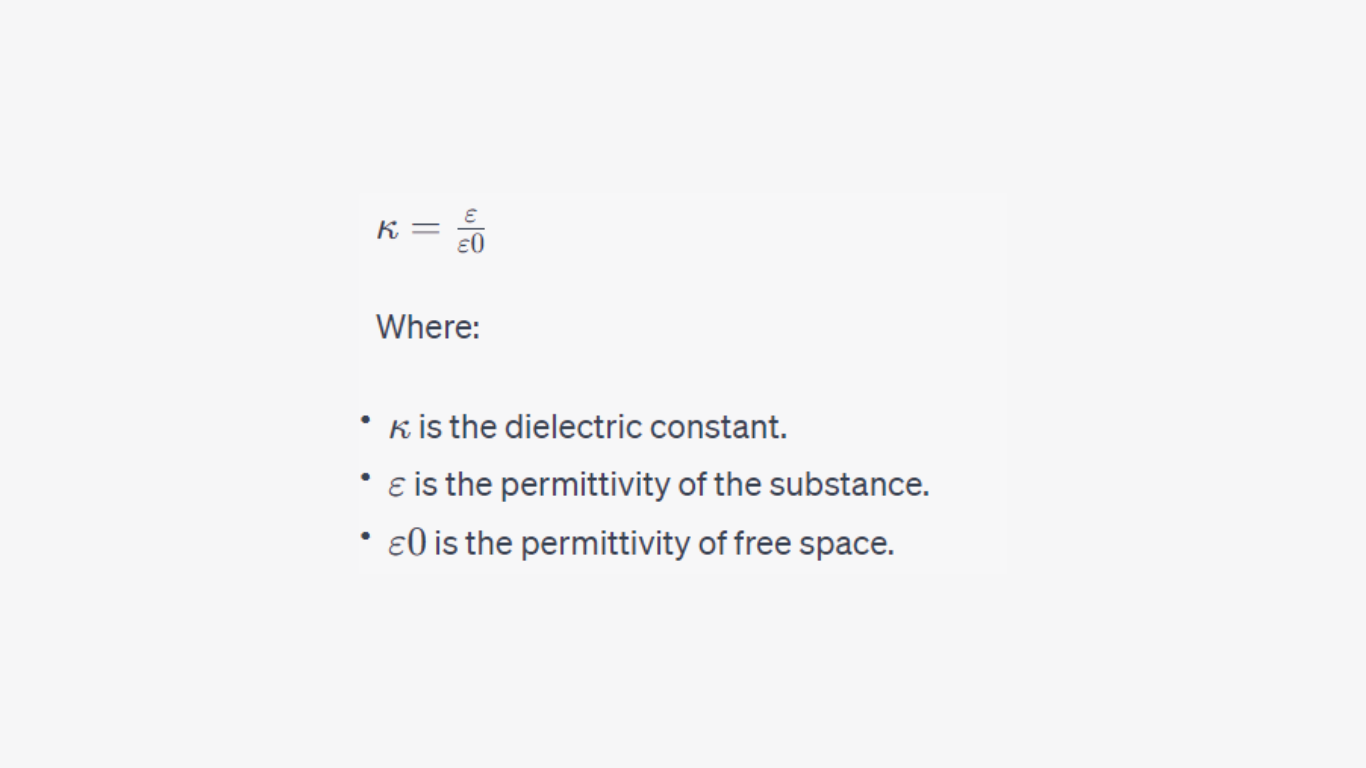 Factors Affecting Dielectric Constant
Frequency: The frequency of the applied voltage affects the dielectric constant. As the frequency increases, the dielectric constant's value may become non-linear.
Applied Voltage: Applying direct current (DC) voltage reduces the dielectric constant while alternating current (AC) voltage tends to increase it.
Temperature: Temperature plays a role in dielectric behavior. Lower temperatures hinder the alignment of molecules in the dielectric material. As temperature rises, the influence of dipoles within the material becomes more dominant, resulting in an increased dielectric constant. There is often a specific "transition temperature" at which this change occurs. If the temperature exceeds this threshold, the dielectric constant may decrease gradually.
Humidity and Moisture: An increase in humidity or moisture content can weaken the dielectric material's strength.
Heating Effect: When dielectric materials are heated, they may experience dielectric loss. Dielectric loss involves the dissipation of electrical energy as heat due to molecular movement within the material when exposed to alternating current voltage.
Material Structure and Morphology: The composition and structure of the material can influence its dielectric constant.
Deterioration and Weathering: The condition and exposure of the material to environmental factors, such as aging and weathering, can also impact its dielectric constant.
In summary, the dielectric constant is a crucial parameter in understanding a material's ability to store electric charge and its response to electric fields, making it essential in various electrical and electronic applications.
Related Posts