Effect of Temperature
As temperature increases, certain key characteristics of electronic devices undergo changes. Specifically, higher temperatures lead to a decrease in threshold voltage (VTHN) and mobility. These changes have significant implications for the drain current in electronic devices.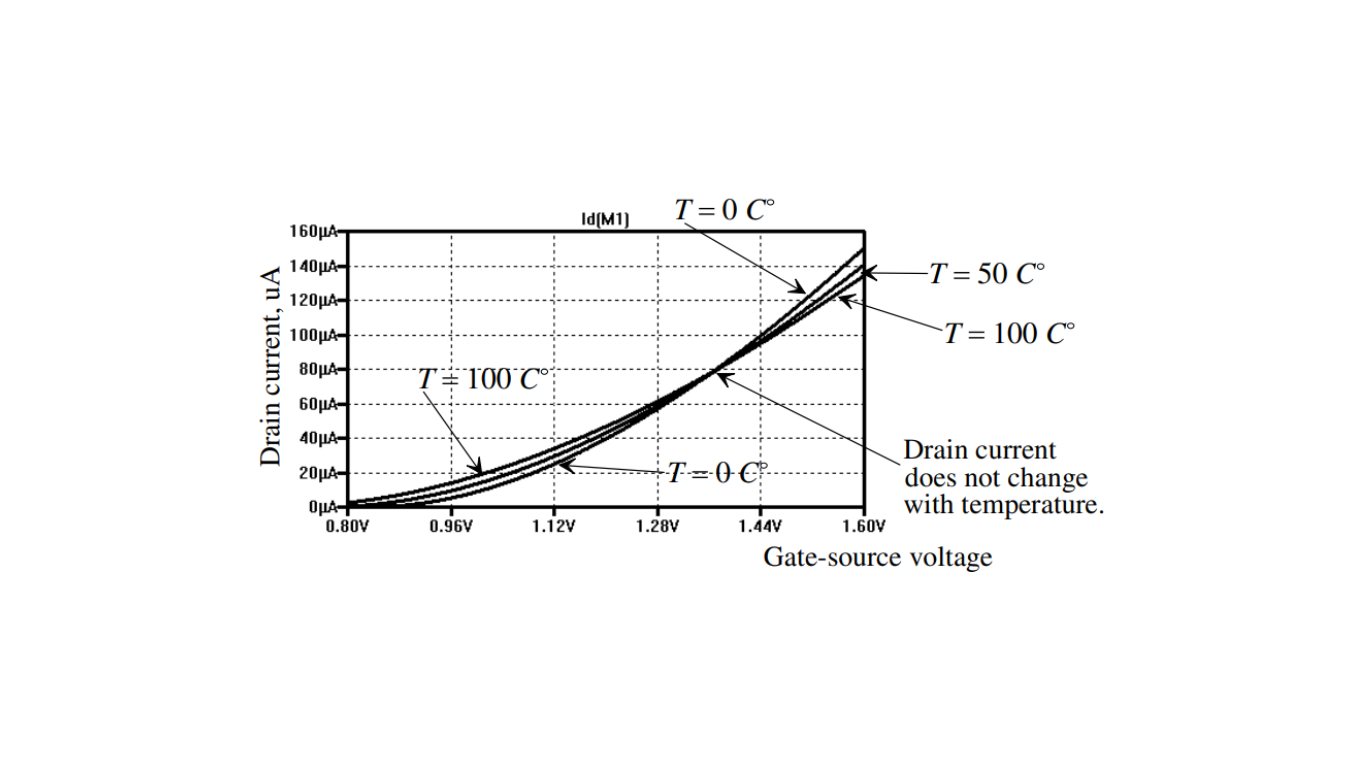 Effect of Mobility on Drain Current
Mobility is a parameter that describes how easily charge carriers (such as electrons) move within a semiconductor material. A decrease in mobility, as the temperature rises, results in a reduction in the drain current (the flow of current from source to drain in a transistor, for example). This decrease is due to the reduced ability of charge carriers to move effectively within the material.
Effect of Threshold Voltage on Drain Current
The threshold voltage (VTHN) is the minimum voltage required to turn on a transistor. As temperature increases, the threshold voltage decreases. When VTHN decreases, it allows for a higher drain current because the transistor becomes more conductive at lower voltages.
Combined Effects at Different Gate-Source Voltages (VGS)
The impact of temperature on the drain current depends on the gate-source voltage (VGS) applied to the device. At low VGS, the reduction in VTHN dominates, leading to an increase in drain current with increasing temperature. In contrast, at higher VGS values, the reduction in mobility becomes more significant, resulting in a decrease in drain current as temperature rises.
Cancellation of Effects
In some cases, the effects of threshold voltage reduction and mobility reduction due to temperature changes can cancel each other out. When these effects balance each other, the drain current remains relatively constant even as the temperature changes. This behavior is illustrated in Fig. for long-channel devices.
Short-Channel CMOS Technology
Short-channel CMOS technologies exhibit similar behavior but may have different characteristics. Fig demonstrates how the drain current changes with temperature in such technologies. It shows instances where the effects of temperature on mobility and threshold voltage offset each other, resulting in a relatively stable drain current.
In summary, temperature has a complex impact on the behavior of electronic devices, particularly in short-channel CMOS technologies. The interplay between threshold voltage and mobility changes can lead to varying effects on drain current at different operating conditions.
Related Posts