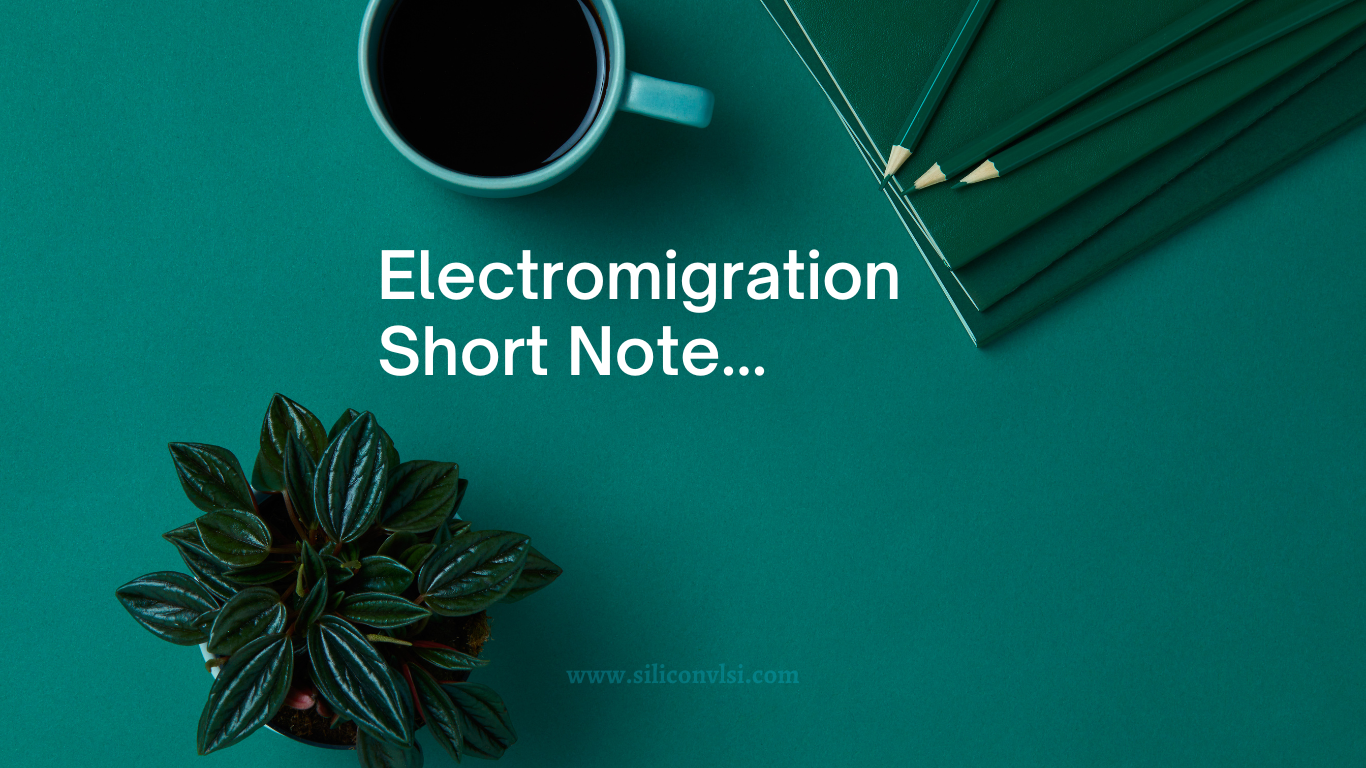 Electromigration
The gradual movement of the ions in a wire due to the momentum transfer between conducting electrons and diffusing metal atoms.
"EM comes Mostly in Bi directional Signal"
Factors Affecting Electromigration
Wire Width
Wire length
Wire Size
Wire material
Wire Jog
Via size
Current density
"EM is related to current, While IR is related to Voltage"
Effect of Electromigration in Metal Interconnect
Depletion of Atom(Void)

Slow reduction in connectivity
Interconnect failure

Depletion of Atom(Hillock)
How to avoid Electromigration
Run parallel metals.
Avoid jogs.
Put more vias.
Use proper wire materials.
Choose the proper metal width according to current density.
What is the primary cause of non-uniformities in metal interconnect structures?
Non-uniformities in metal interconnect structures can result from fabrication processes and are more pronounced at vias or contacts due to abrupt changes in the conductor area. These non-uniformities disrupt current density (J = I/A), leading to regions of high current density. High current density can cause the formation of voids, which can lead to line breakages, and hillocks, which can cause short circuits to adjacent lines.
Explain the thermal effects that contribute to electromigration.
Electromigration-related failures are accelerated by thermal effects. As voids form and reduce the conductor area, the current density increases, leading to localized temperature rises due to Joule Heating (proportional to the square of the current density). Elevated temperatures accelerate void growth, ultimately causing line breakage. Joule Heating also widens voids, exacerbating the problem.
What is the self-heating effect?
Self-heating refers to the heat generated by current-carrying elements. In semiconductor devices like Silicon On Insulator – FINFETs, poor heat dissipation mechanisms exist compared to bulk-FINFETs. The limited heat dissipation leads to increased local temperatures, making wires more susceptible to electromigration-related failures.
Explain the significance of the Irms/Ilimit ratio in preventing electromigration issues in semiconductor devices.
The Irms/Ilimit ratio is crucial for analyzing AC signals on signal and clock nets. It represents the RMS (root mean square) current check to prevent overheating. Foundries specify current limits (Ilimit) for each metal layer and via, and the Irms/Ilimit ratio must remain within acceptable limits to avoid electromigration-related failures. These limits are determined based on metal layer width and effective frequency.
How does effective frequency relate to electromigration susceptibility?
Effective frequency is related to the toggle rate of signal nets concerning the clock signal, which indicates how fast the signal/clock nets transition. Faster transitions increase the risk of electromigration violations. It's crucial to understand the speed at which signal/clock nets change to ensure that electromigration-related issues are minimized during semiconductor design.
Please add Your answer in the comment box related to this topic, so that it will be useful for others. Please do comment.
Related Posts