Matching Concepts for Resistors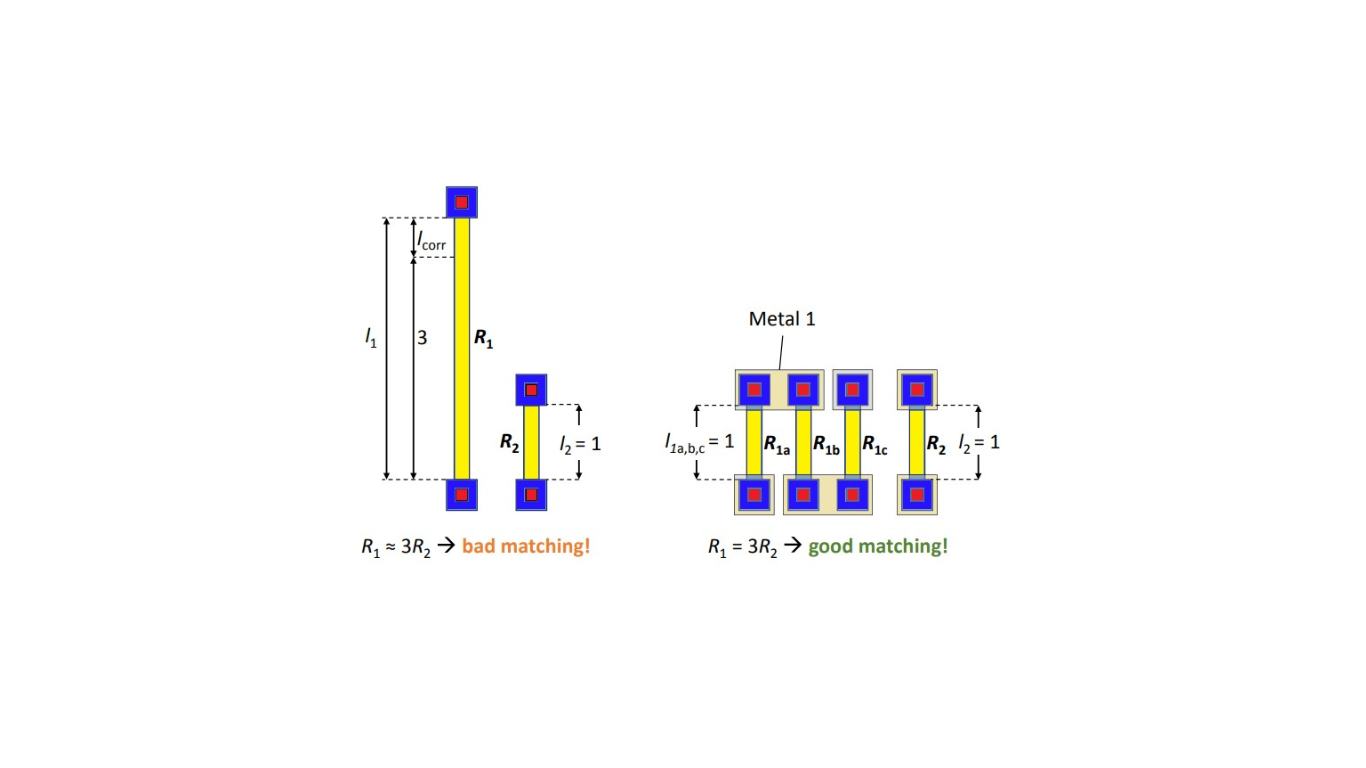 Resistor Body Matching
Resistance is proportional to the ratio of length (l) to width (w).
Width variations, caused by tolerances during exposing and etching, contribute to resistance variations.
Poly resistors, PSD, and NSD resistors are affected by width variations.
Stretching the resistor body does not scale these variations proportionally.
Nwell resistors have width variations due to lateral out diffusion but are corrected in simulation models, not in layout.
Matching Resistors
To achieve matching, resistors should always have the same width and length.
For instance, if additional width variations add up to increase the effective width by 50 nm over nominal widths, a mismatch of 4.5% can occur for resistors with a width ratio of 2:1.
Matched resistors have identical widths.
Resistor Head Matching
Inhomogeneous current flow in resistor heads can cause variations.
When designing voltage dividers with resistors of ratio R1:R2 = r > 1, lay them out with the same width and differ only in length (l1 and l2).
Correct for the "missing" heads effect by adding a length correction (lcorr) to R1.
The error in lcorr calculation arises from process tolerances and the correlation between RH and R (nominal values).
To eliminate this effect, design matching resistors from connected "basic resistors" to ensure the ratio of resistor heads matches the required resistance ratio.
Rule of Thumb for Matching Resistors
Matching resistors should have the same width and length.
Achieve resistance ratios (r = 1) by building resistors from identical smaller resistors connected in series or parallel for better layout solutions.
Resistors can be resized (zoomed) while keeping the number of squares and resistance value identical, which can improve matching precision by reducing the relative impact of fringe effects on the absolute scale.
Matching resistors based on width, length, and resistor head configurations are essential to ensure consistent and predictable performance in analog circuits, particularly when dealing with manufacturing tolerances and variations.
Related Posts