What is shunt resistance?
A shunt resistor is a type of resistor that has a very low value of resistance. It is specifically designed to have a low-temperature coefficient of resistance. The purpose of a shunt resistor is to extend the range of an ammeter, which is a device used to measure electric current. The shunt resistor is connected in parallel with the ammeter. By doing so, it diverts a portion of the current away from the ammeter, allowing the ammeter to measure higher currents accurately.
The shunt resistor can also connect in series with a load whose current requires measurement. This connection creates a known resistance path for the current to flow through, enabling the measurement of the current passing through the load by measuring the voltage drop across the shunt resistor.
Consider that an ammeter has a resistance Rm and can only measure a small current Im. To extend its range, a shunt resistor Rs is placed in parallel with the ammeter.
Shunt Resistance Formula
Let's define the variables:
Rs: Shunt resistance
Is: Shunt current
I: Total load or circuit current to be measured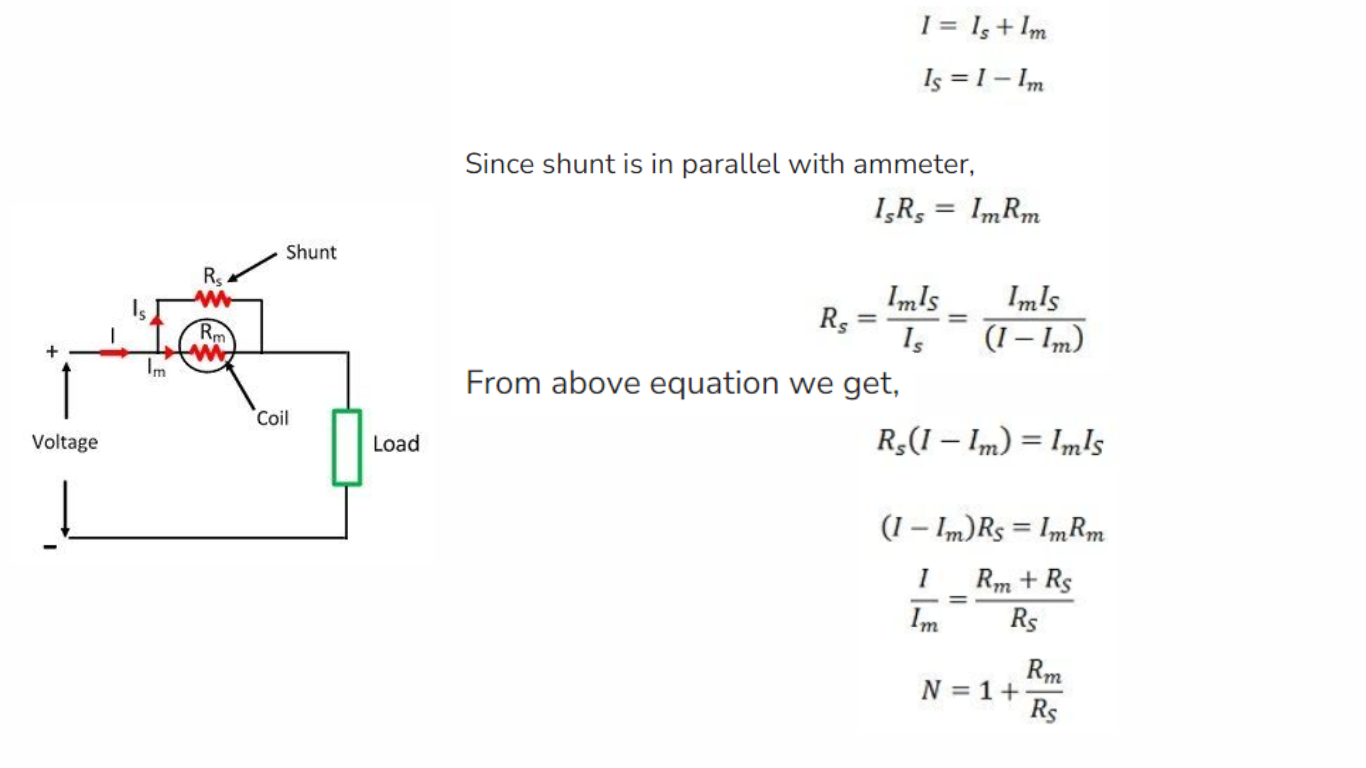 Where N represents the ratio of the total current (I) to be measured to the full-scale deflection current Im. This ratio is known as the multiplying power of the shunt.
The shunt resistor is commonly used in galvanometers for measuring large currents. It is connected in parallel to the galvanometer circuit. Galvanometers are devices used to sense current flow. The direction of the current flow inside the circuit is determined by the pointer of the galvanometer.
Shunt Resistance  Uses
A shunt is an important component in electrical circuits. Its main function is to create a pathway with low resistance, allowing electric current to easily flow through it.
In addition to its role in facilitating the flow of current, a shunt is also used for measuring the amount of current passing through it. It acts as a tool for accurately determining the current at a specific location in the circuit.
Furthermore, shunts are employed in circuits to protect against overvoltage. They work by providing an alternative path with low resistance, diverting any excess voltage away from delicate components. This protection prevents potential damage that could be caused by sudden increases in voltage, such as spikes or surges.
In summary, the shunt resistor expands the measuring range of an ammeter and measures the current passing through a load. It accomplishes this by connecting either in parallel with the ammeter or in series with the load, thereby providing a known resistance path for current measurement.
Related Posts