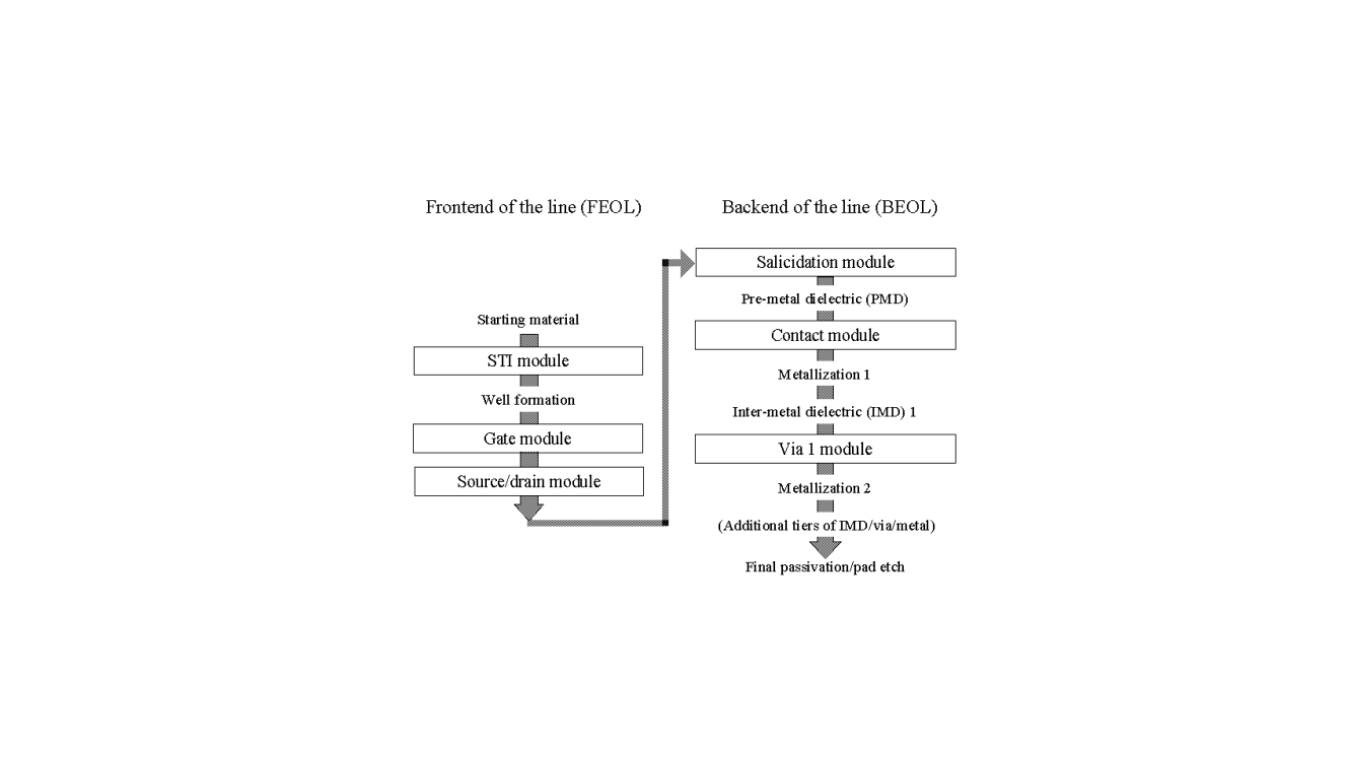 Front-End-of-Line
FEOL, which stands for Front-End-of-Line, encompasses all the essential processes that precede silicide formation in semiconductor manufacturing. Its primary focus is the creation of isolated CMOS (Complementary Metal-Oxide-Semiconductor) transistors. The FEOL process involves several crucial steps:
Starting Material Selection: The process begins with the selection of the appropriate silicon wafer type as the foundational material.
Shallow Trench Isolation (STI) Module: STI is implemented to create regions of dielectric material between active areas. This isolation is essential for preventing unwanted electrical interactions between transistors.
Well Formation: Wells or tubs are formed to create the necessary substrate for CMOS transistors. This step is crucial for defining the transistor characteristics.
Gate Module: The gate module defines gate electrodes on a thin oxide layer. This stage is fundamental as it controls transistor operation.
Source/Drain Module: The FEOL concludes with the source/drain module, which involves forming low-doped drain extensions and the source/drain regions themselves. This step finalizes the transistor structure.
Back-End-of-Line
BEOL, or Back-End-of-Line, refers to processes that follow the formation of source/drain regions in semiconductor fabrication. BEOL is responsible for interconnecting transistors using multiple layers of dielectric materials and metals. Key BEOL processes include:
Salicitation: This step involves the formation of silicide layers on polysilicon and source/drain regions.
Interconnect Formation: BEOL processes consist of multiple modules that create lateral and vertical interconnects, isolating them from each other using dielectric materials.
Importantly, there is a high level of interdependence between unit processes within each module and across different modules in both FEOL and BEOL. Small changes in one process can have significant impacts on others, making precise control and understanding of these processes critical in semiconductor manufacturing.
---
What is the purpose of the BEOL (Back-End-of-Line) process in semiconductor manufacturing?
BEOL (Back-End-of-Line) processes follow source/drain formation and are used to interconnect the transistors with multiple layers of dielectrics and metals. BEOL differs from FEOL in that it focuses on creating the wiring and interconnections for the devices.
Can you describe the starting point of the FEOL process and the initial steps involved?
The FEOL process starts with the selection of the starting material, which is typically a silicon wafer. The initial steps include forming shallow trench isolation (STI) to create dielectric regions between active areas on the wafer.
What is the significance of salicidation in semiconductor manufacturing, and at which stage does it occur in the manufacturing process?
Salicidation is important for reducing the resistance of certain semiconductor regions. It occurs at the beginning of the BEOL process after the formation of source/drain regions and polysilicon layers.
Why is it important to recognize the inter-relationship between unit processes within each module?
Recognizing the inter-relationship between unit processes within each module and between modules is crucial because changes in one seemingly "trivial" unit process can have significant effects on processes in other modules. This understanding is essential for maintaining the quality and reliability of semiconductor manufacturing processes.
Related Posts