Digital TV Decoder
A digital TV decoder is a device that converts digital signals into analog signals, allowing information to be received digitally and viewed on televisions without built-in digital capabilities. This technology is particularly relevant during the transition from analog to digital broadcasting, commonly known as digital television (DTV). The digital TV decoder captures digital signals from the airwaves and translates them for display on non-digital televisions.
Advantages of Digital TV Decoder
The primary motivation for using a digital TV decoder is to access improved sound and picture quality, especially compared to the limitations of analog broadcasting. The transition to all-digital broadcasting in many countries has been driven by the desire to free up portions of the broadcast spectrum. This shift allows for more channels and facilitates the auctioning of unused spectrum portions to wireless companies for applications such as wireless broadband.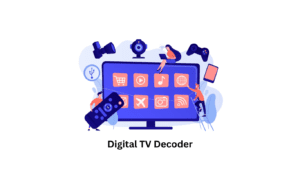 Different countries have adopted varying approaches to the transition. Some countries broadcast both analog and digital signals during a transitional period, while others have completely switched to digital-only broadcasting. The transition timeline and requirements, including the need for a digital TV decoder, vary by country.
For those using digital TV decoders with RCA inputs, the television must be set to the auxiliary input channel. If coaxial cables are used, tuning the television to channel three or four is typically required. The associated remote control for the digital TV decoder is used for channel selection, while the television remote controls functions like volume adjustment and power on/off.