Home Theater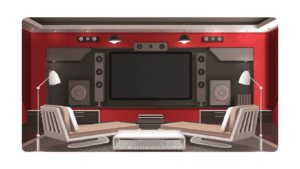 Home theaters are designated spaces within homes equipped with audio and visual systems to replicate the cinematic experience. These setups often feature large-screen televisions and surround sound speaker systems to enhance the audio-visual quality. Home theaters can be established in residences of various sizes, ranging from apartments to spacious estates.
How to choose Home Theater?
Creating a home theater involves not only acquiring the necessary equipment but also designating a specific space within the home for the setup. This space can be a converted basement, an unused bedroom, or even a dedicated section of a den or family room. The versatility of home theater setups allows them to be implemented in various living environments, making it feasible to establish a basic home theater even in an apartment.
Feature
While some home theaters are modest, others are elaborate setups resembling commercial movie theaters. These sophisticated setups may include features such as drapery panels along the walls, light-blocking capabilities for optimal viewing, and ample seating to accommodate a larger audience. In some cases, home theaters may even incorporate additional amenities such as a bar area for serving snacks or a popcorn machine to complete the cinematic experience. The design and features of a home theater can be tailored to meet the preferences and space available in a given home.