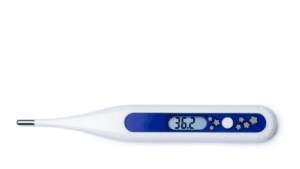 Monitoring indoor temperature serves various purposes, ranging from general interest to specific needs such as thermostat accuracy, heater efficiency, and task-specific temperature control. For instance, cooking and craft projects often require precise temperature ranges. Additionally, indoor thermometers play a major role in environments like libraries and archives, where maintaining precise climate conditions is essential for protecting collections.
Types of Indoor Thermometers
Traditional Bulb Thermometers
Consists of a bulb mounted on the wall to sense temperature in a specific area.
Reading involves observing the fluid level in the attached tube.
Fluid expands and rises as the room warms up, and contracts and falls as it cools down.
Digital Thermometers
Feature a digital display for easy reading.
Use sensors that can be placed in remote areas.
Provide accurate and quick temperature readings.
Placement Considerations of Indoor Thermometer
Importance of Placement: The accuracy of indoor thermometers depends on their placement.
Avoid Skewed Readings: Placement near sources of heat (ceiling, stove, sunlight, heater) may result in unusually warm readings.
Avoid Low Readings: Placement near sources of cold (door, window, air conditioner, floor) may result in unusually low readings.
Advantage of Remote Sensors: Remote sensors allow flexibility in placing the thermometer unit conveniently while locating the sensor in the best spot to sense the temperature accurately.
Humidity Measurement: Some people find it helpful to measure humidity indoors in addition to temperature.
Comparison with Outdoor Conditions: Having an outdoor sensor allows for comparing indoor and outdoor conditions.
Availability: Indoor thermometers with humidity measurement and outdoor sensors are available at hardware stores and through weather supply catalogs.
In summary, indoor thermometers come in various types, from traditional bulb thermometers to digital ones with advanced features. Proper placement is major to ensure accurate readings, and additional features like humidity measurement and outdoor sensors provide comprehensive information about indoor and outdoor conditions.