Interactive Media
Interactive Media is a form of communication where the output of a program depends on user inputs, and vice versa. It encompasses various ways in which people process and share information, facilitating communication through text, graphics, video, and sound. Unlike traditional media forms such as television and radio that initially required passive consumption, interactive media engages users, turning them into active participants.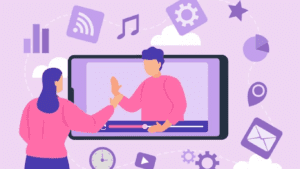 The primary purpose of interactive media is to engage users in a way that traditional media cannot. Users are no longer passive consumers; instead, they actively participate in and influence the content and outcomes of the media they interact with. Traditional media channels, like television, lack the interactivity that allows users to navigate their experiences.
What Is the Primary Advantage of Using Interactive Media?
Interactive media plays a crucial role in connecting users with businesses, fostering seamless communication. Consumers can actively communicate with businesses, getting their questions answered, while businesses can readily identify and address the needs and concerns of their clients or customers.
What Are Some Common Examples of Interactive Media?
Examples of interactive media in daily life include social media platforms like Instagram, Twitter, and Facebook, as well as apps like Uber, where users actively engage to arrange rides. Whether checking social media updates, playing virtual games, or managing personal finances on a smartphone, users continuously interact with various forms of interactive media.
Active vs. Passive Media: Shaping User Experiences
In the modern world, media can be categorized as either "active" or "passive." Active media involves direct user engagement, allowing users to shape outcomes, while passive media presents fixed and unchanging information. Different levels of interaction exist, ranging from searching for information on websites to making real-time decisions in virtual games. Even traditional print volumes like "choose your own adventure" books, encyclopedias, and dictionaries can be considered forms of interactive media, as they require users to actively shape their experience. Board games also fall under this category, demanding decision-making and manipulation similar to online interactions.
In summary, interactive media transforms users from passive consumers to active participants, providing opportunities for engagement and shaping outcomes in various forms of communication and entertainment.