Projection Screen Material
Projection screens and projection films serve distinct purposes in visual display applications.
What Are the Different Types of Projection Screen Material?
Projection screens are rigid surfaces, typically made from materials like acrylic or glass. They are commonly used in framed, suspended, and mounted applications. Projection screen materials are available in various shades of white and gray, with different levels of light gain. Gray screens help balance colors and enhance the contrast, producing deeper blacks.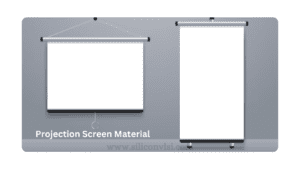 High-quality projection screens are designed to block projected light from passing through, ensuring optimal picture quality. Some screens are directly applied to surfaces using specially formulated paint containing a silver metallic base, acting like tiny mirrors to produce high-quality images. These paint-on screens are cost-effective, easy to clean or repair, and may outperform other types of projection screens.
What is the use of Projection Screen Material?
On the other hand, projection films are often used in window display applications. Unlike rigid screens, projection films are more flexible and can be applied to glass or other transparent surfaces. They are commonly used for creating dynamic and eye-catching displays in retail settings, museums, and other public spaces. Projection films allow for rear or front projection, giving flexibility in display design. The choice between projection screens and films depends on the specific application, space, and desired visual effects.
When selecting projection screen material, factors such as color, gain, ability to block light, overall durability, and maintenance requirements should be considered. Testing samples of different materials is advisable to assess their strength, suitability for projection, and ease of cleaning.
What is the best material for the rear projection screen?
Scrim (FR / IFR) Commonly used for a bleed-through effect.
Celtic Cloth IFR.
Textilene IFR.
Concert Mesh IFR.