In this article, we will explore the interview process at Cisco, a renowned multinational technology company. We will discuss the importance of Cisco interviews, key areas to focus on during preparation and provide tips for success. Whether you are a networking professional or aspiring to work in the technology industry, this article will provide valuable insights to help you excel in Cisco interviews.
About Cisco
Cisco is a global leader in networking technology and provides a wide range of products and services related to networking, security, collaboration, and the Internet of Things (IoT). The company is known for its innovative solutions and plays a significant role in shaping the future of the digital landscape.
Importance of Cisco Interviews Cisco interviews is important for candidates seeking opportunities to work in the dynamic and fast-paced technology industry. The company values technical expertise, problem-solving abilities, and cultural fit. A successful interview at Cisco can lead to exciting career prospects and the chance to work on cutting-edge projects.
Preparation for Cisco Interviews Preparing for Cisco interviews requires a comprehensive approach that includes both technical and behavioral aspects. Here are key areas to focus on during your preparation:
Technical Questions Cisco interviews often include technical questions to assess a candidate's knowledge of networking concepts, routing and switching, and network security. Be prepared to demonstrate your understanding in areas such as:
Networking Concepts Have a strong grasp of networking fundamentals, including the OSI model, TCP/IP protocols, subnetting, VLANs, and IP addressing. Understand how different networking components and protocols work together to establish communication.
Routing and Switching Familiarize yourself with routing protocols such as OSPF and EIGRP, and switching concepts like spanning tree protocol (STP), VLAN trunking protocol (VTP), and Ethernet switching. Be prepared to explain routing and switching configurations and troubleshoot network issues.
Network Security Understand network security principles, including firewalls, VPNs, access control lists (ACLs), and intrusion detection and prevention systems. Be familiar with common security threats and mitigation techniques.
Behavioral Questions In addition to technical questions, Cisco interviews also assess a candidate's behavioral and soft skills. These questions aim to evaluate your communication, leadership, and problem-solving abilities. Be prepared to answer questions related to:
Leadership and Teamwork Highlight instances where you demonstrated leadership, collaborated effectively in a team, or resolved conflicts. Showcase your ability to work well with others and contribute to a positive and productive work environment.
Problem-Solving and Adaptability Share examples of how you have approached and solved complex problems in your previous roles or projects. Demonstrate your ability to think critically, adapt to new challenges, and learn from failures.
Tips for a Successful Cisco Interview To increase your chances of success in Cisco interviews, consider the following tips:
Research the Company Thoroughly research Cisco, its products, solutions, and recent developments. Understand the company's mission, values, and its position in the technology industry. This knowledge will enable you to align your responses with the company's goals and demonstrate your genuine interest in joining Cisco.
Brush Up on Technical Skills Review networking concepts, protocols, and security principles to ensure you are up to date with the latest industry standards. Be prepared to explain technical concepts clearly and concisely during the interview.
Showcase Your Soft Skills Highlight your soft skills, such as effective communication, problem-solving, and adaptability. Provide specific examples from your previous experiences that demonstrate these skills in action. Emphasize how these skills can contribute to the success of Cisco and its teams.
Cisco Interview Questions with Answers
How many rounds of interviews are there in the Cisco selection process?
The number of interview rounds in the Cisco selection process can vary depending on the role and level of the position. It typically includes multiple rounds, such as technical interviews, behavioral interviews, and possibly a final interview with senior management.
What certifications are valued in Cisco interviews?
Cisco certifications such as CCNA (Cisco Certified Network Associate) and CCNP (Cisco Certified Network Professional) are highly regarded in Cisco interviews. These certifications demonstrate your knowledge and proficiency in Cisco networking technologies.
Are hands-on practical skills important in Cisco interviews?
Yes, hands-on practical skills are important in Cisco interviews, especially for technical roles. Employers often assess a candidate's ability to apply theoretical knowledge in real-world scenarios and troubleshoot network issues.
How can I demonstrate my passion for technology during Cisco interviews?
Express your passion for technology by discussing your personal projects, participation in technology communities, or involvement in open-source initiatives. Showcasing your continuous learning mindset and enthusiasm for staying up to date with industry trends can also demonstrate your passion for technology.
Is it important to ask questions at the end of a Cisco interview?
Yes, asking thoughtful questions at the end of a Cisco interview is important. It demonstrates your engagement, curiosity, and interest in the role and the company. Prepare a list of relevant questions to ask the interviewer, such as inquiries about the team, projects, or company culture.
Why do you want to work at Cisco, number two?
What is your knowledge of Cisco?
Pick one of Cisco's products, then explain how it can help a company.
Describe a situation when you and a team member disagreed.
What are your long-term professional goals?
What are your weaknesses?
Describe a situation in which you had to solve a difficult problem.
Describe how you would handle ambiguity in a challenging circumstance.
Describe a situation when you had to make a significant choice.
Describe a situation in which you were able to solve a challenging issue in a straightforward manner.
Describe an occasion when you stumbled.
Describe an instance when you and your manager or supervisor disagreed.
Please describe one of your standout projects for me.
When have you successfully completed a challenging task as a team?
Why did you leave your previous position?
How would you assess the caliber of your work, question 8?
What was the hardest experience you had at your prior job?
Describe your interest in technology and how it relates to your professional objectives.
Why should we hire you for this position at Cisco, question 11?
Conclusion
Cisco interviews provide an opportunity to showcase your technical expertise, problem-solving abilities, and cultural fit for a leading technology company. By preparing thoroughly, focusing on both technical and behavioral aspects, and following the tips provided, you can enhance your chances of success in Cisco interviews and pave the way for a rewarding career in the technology industry.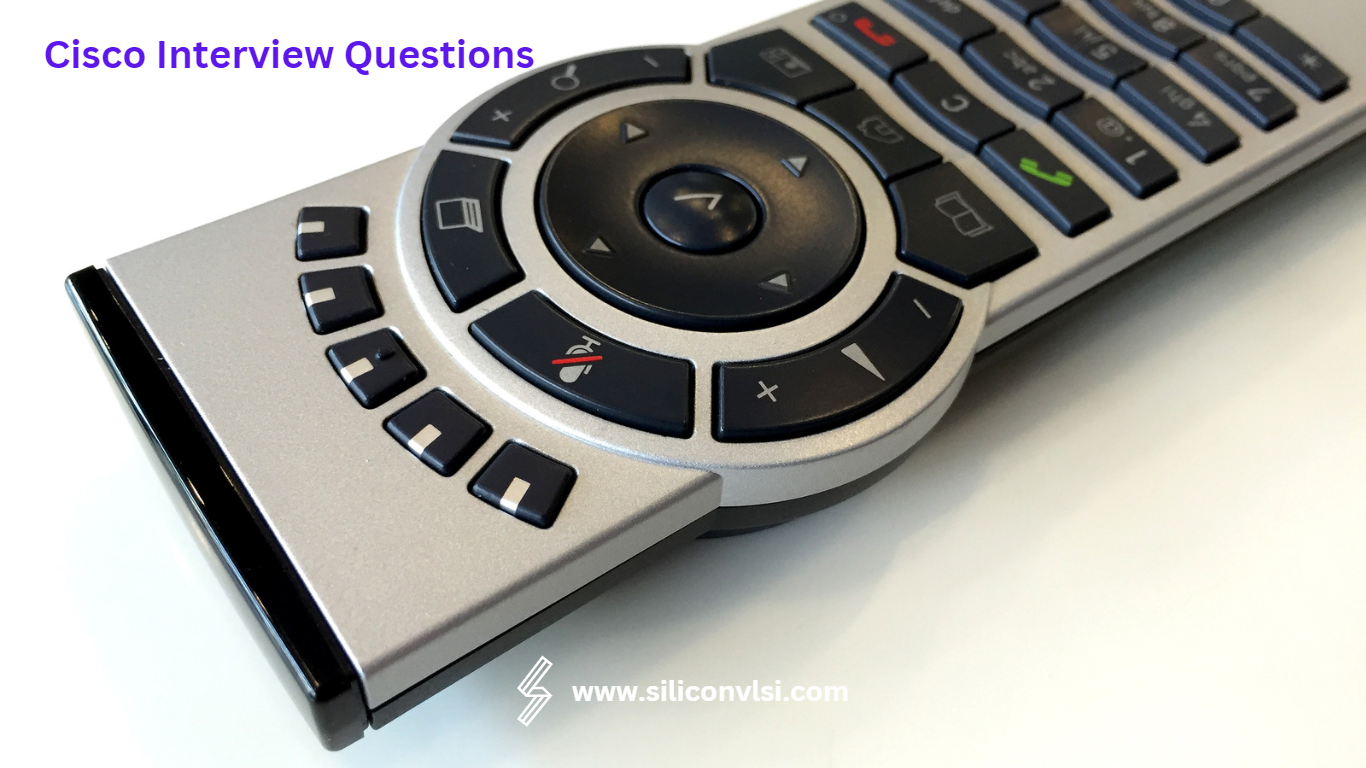 Related Posts