What is the Difference between MOM, MIM, and MOS Capacitors
The main difference between MOM, and MIM is,  MOM capacitors mainly use the same-layer metal interdigital structure to construct capacitors. This means that the MOS capacitor has only one Metal layer, while MIM has multiple metal layers are used.
In analog IC circuit design, capacitors are essential components. Traditionally, metal capacitors have been widely used in integrated circuits. In CMOS technology, there are three main types of integrated capacitors:
MIM capacitors (Metal-Insulator-Metal)
MOM capacitors (Metal-Oxide-Metal)
MOS capacitors (Metal-Oxide-Semiconductor)
Each of these capacitor types serves different purposes and offers distinct advantages and disadvantages.
MIM Capacitor (Metal-Insulator-Metal)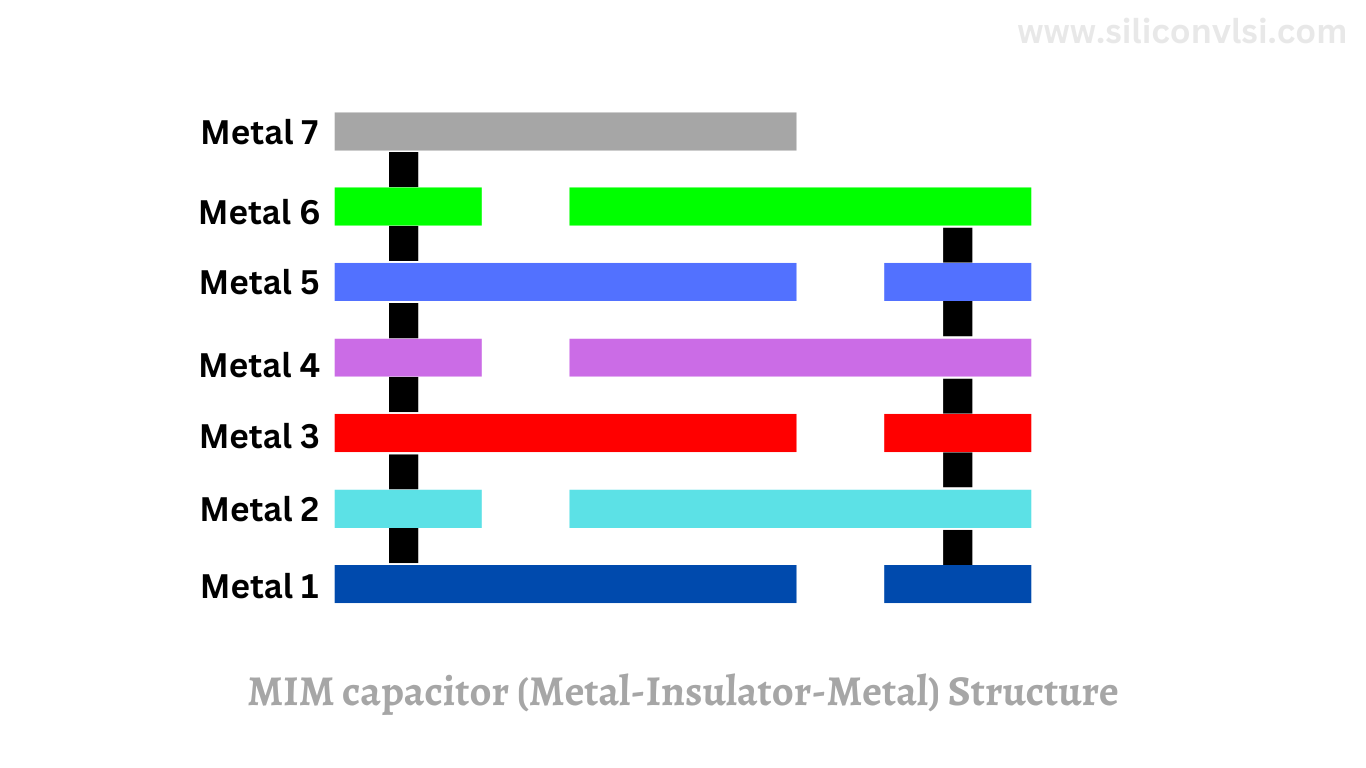 MIM capacitors are similar in structure to parallel plate capacitors, with two metal layers separated by a dielectric material.
They are formed using the top two metal layers and a special metal layer in the middle.
Advantages: MIM capacitors can use special processes to connect odd-numbered and even-numbered metal layers, increasing unit area capacitance.
Disadvantages: MIM capacitors have a relatively low unit area capacitance and can exhibit significant parasitic capacitance.
MOM Capacitor (Metal-Oxide-Metal)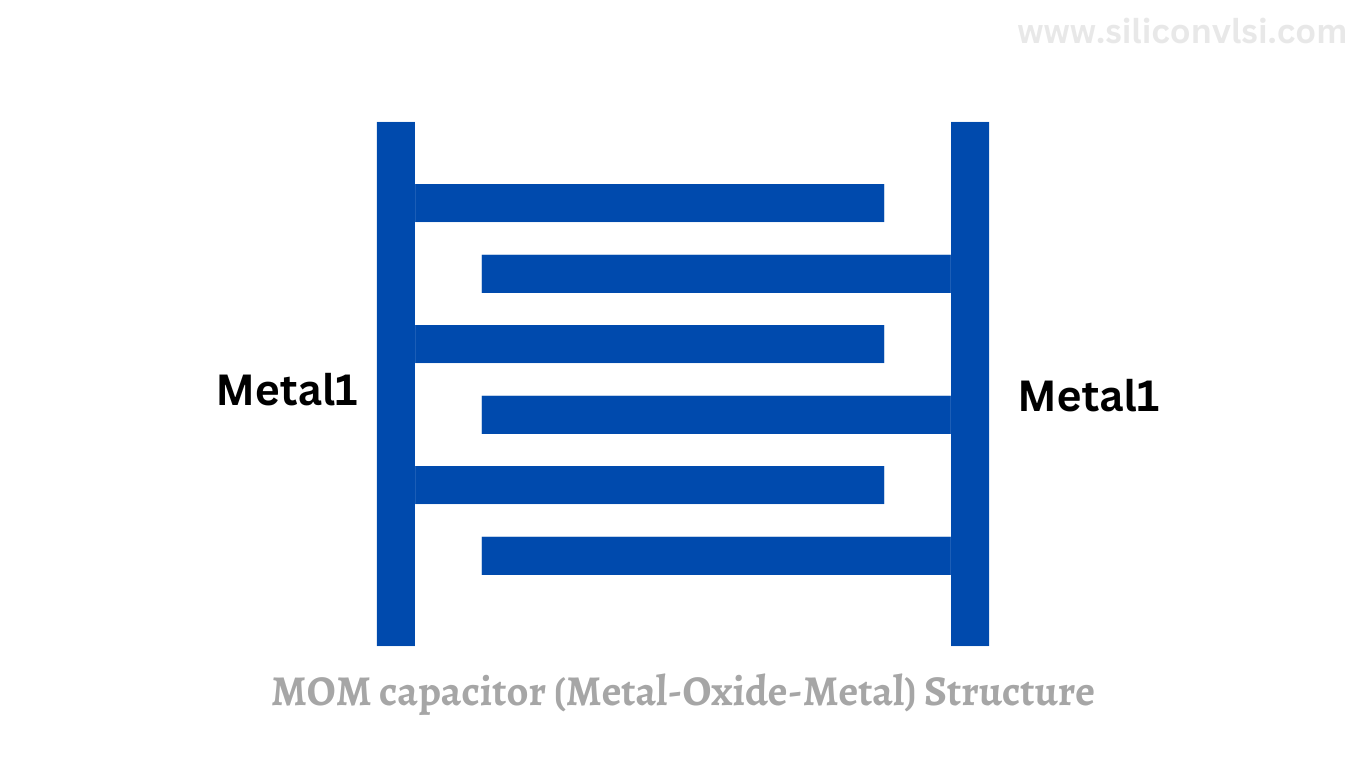 MOM capacitors are interdigitated capacitors formed by metal connections and are characterized by a high unit capacitance.
Their structure allows for closer metal wire spacing, resulting in higher capacitance density, especially in advanced technology.
Advantages: MOM capacitors offer high unit capacitance, low parasitic capacitance, symmetrical plane structure, excellent RF and matching characteristics, and compatibility with the metal wire process without requiring additional steps.
MOM capacitors have become essential in advanced CMOS manufacturing processes.
MOS Capacitor (Metal-Oxide-Semiconductor)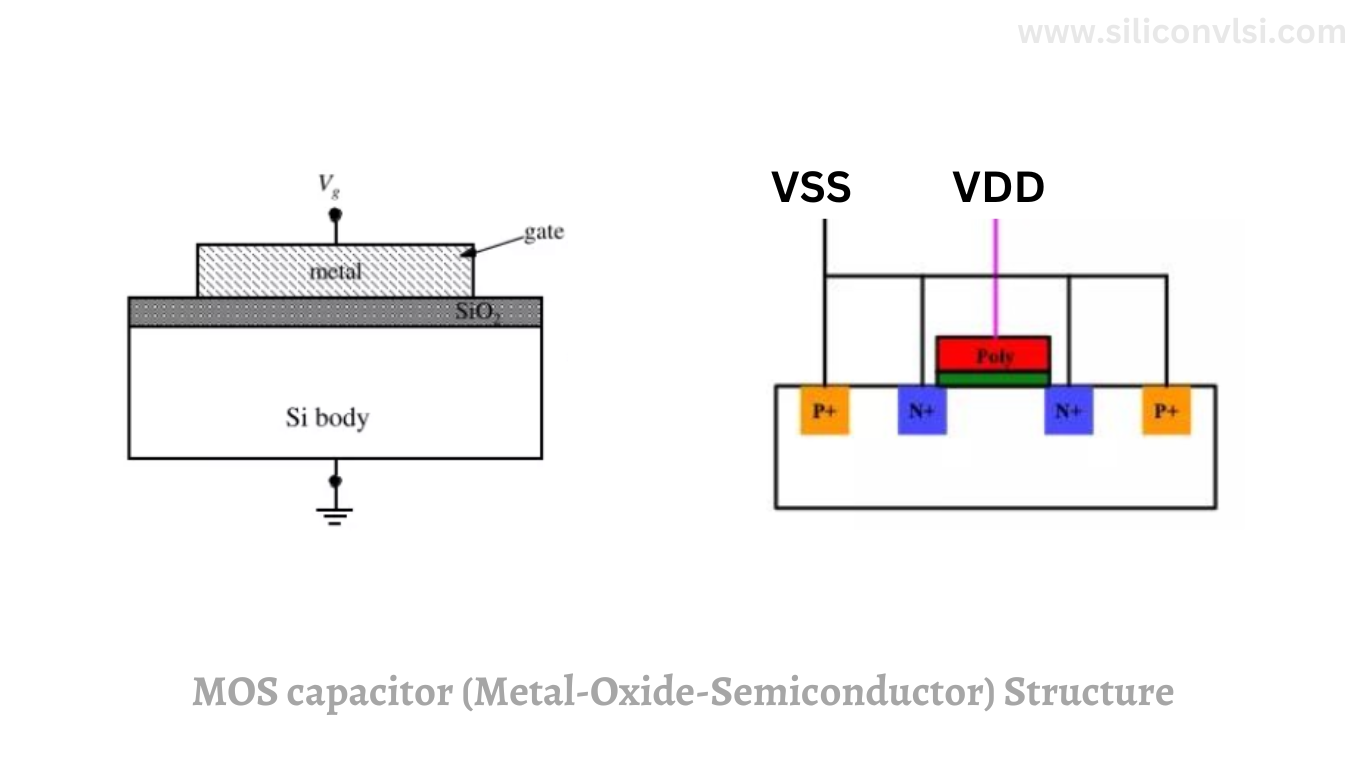 MOS capacitors are integral to MOSFET structures, serving as the core unit of the entire MOS transistor.
They consist of a metal gate, a semiconductor substrate, and an oxide layer (usually SiO2) in between.
The capacitance value of MOS capacitors varies with the gate voltage and exhibits non-linearity.
MOS capacitors work in different regions (accumulation, depletion, inversion) depending on the gate voltage.
MOS capacitors are important in transistor operation and are used to store charge.
They can have two different structures: P-type semiconductor MOS capacitors and N-type semiconductor MOS capacitors.
Comparison of Capacitors
MIM capacitors are similar to plate capacitors, offering accurate capacitance values that do not change with bias voltage. They are suitable for analog and RF processes.
MOM capacitors use interdigital structures and have good capacitance density but may lack determinism and stability compared to MIM capacitors. They are used in processes that do not require high capacitance.
MOS capacitors are voltage-controlled capacitors used within MOSFETs. They exhibit non-linearity and vary their capacitance with gate voltage. They are not suitable for circuits requiring high precision but are essential in transistor operation.
In summary, the choice between MIM, MOM, and MOS capacitors depends on the specific requirements of the circuit and the technology being used. Each type has its advantages and disadvantages, making them suitable for different applications in CMOS technology. MOM capacitors have gained prominence in advanced manufacturing processes due to their high unit capacitance and low parasitic capacitance.
Related Posts