Analog Amplifier
An analog amplifier is a device designed to take a low-power analog signal as input and produce a more powerful version of the same signal as output. These amplifiers are commonly employed in various audio applications, ranging from personal media players to home theater systems. In audio systems, the amplifier is responsible for generating the signal that drives the speakers or headphones, ultimately producing sound.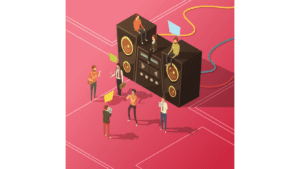 To enhance the performance of an audio system, individuals often consider upgrading the amplifier. In-home stereo systems, this upgrade typically involve adding an external power amplifier. External power amplifiers often come with superior power supplies, allowing them to deliver more power to the speakers. Separating the power amplifier from the rest of the system's power chain can reduce the risk of noise and interference with lower power line-level signals originating from source components. In the realm of personal audio, external analog headphone amplifiers are employed to improve sound quality by providing headphones with higher quantities of clean power.
Why is an Analog Amplifier necessary?
The necessity of an analog amplifier lies in the fact that typical analog audio signals are recorded, stored, and played back at line level, typically around 1 volt DC. These line-level signals need amplification to drive speakers effectively and produce sound accurately. Amplifiers play a major role in increasing signal power and dropping impedance to ensure proper speaker operation.
What is the purpose of using an Amplifier?
The primary purpose of using an amplifier, such as an audio amplifier, is to increase the volume of a signal. In the context of audio systems, amplifiers boost the power of the input signal, making it capable of driving speakers or headphones and producing audible sound. While voltage is the most commonly amplified type of input signal, amplifiers can also be designed to increase current, depending on the specific application and requirements of the audio system.