What is FDMA?
FDMA assigns individual channels to individual users, where each user is allocated a unique frequency channel. These channels are assigned on demand to subscribers who request service, and guard bands are maintained between adjacent signal spectra to minimize cross-talk. In frequency division duplex (FDD) systems, users are assigned a channel as a pair of frequencies, with one frequency for the upward channel and the other for the downward channel.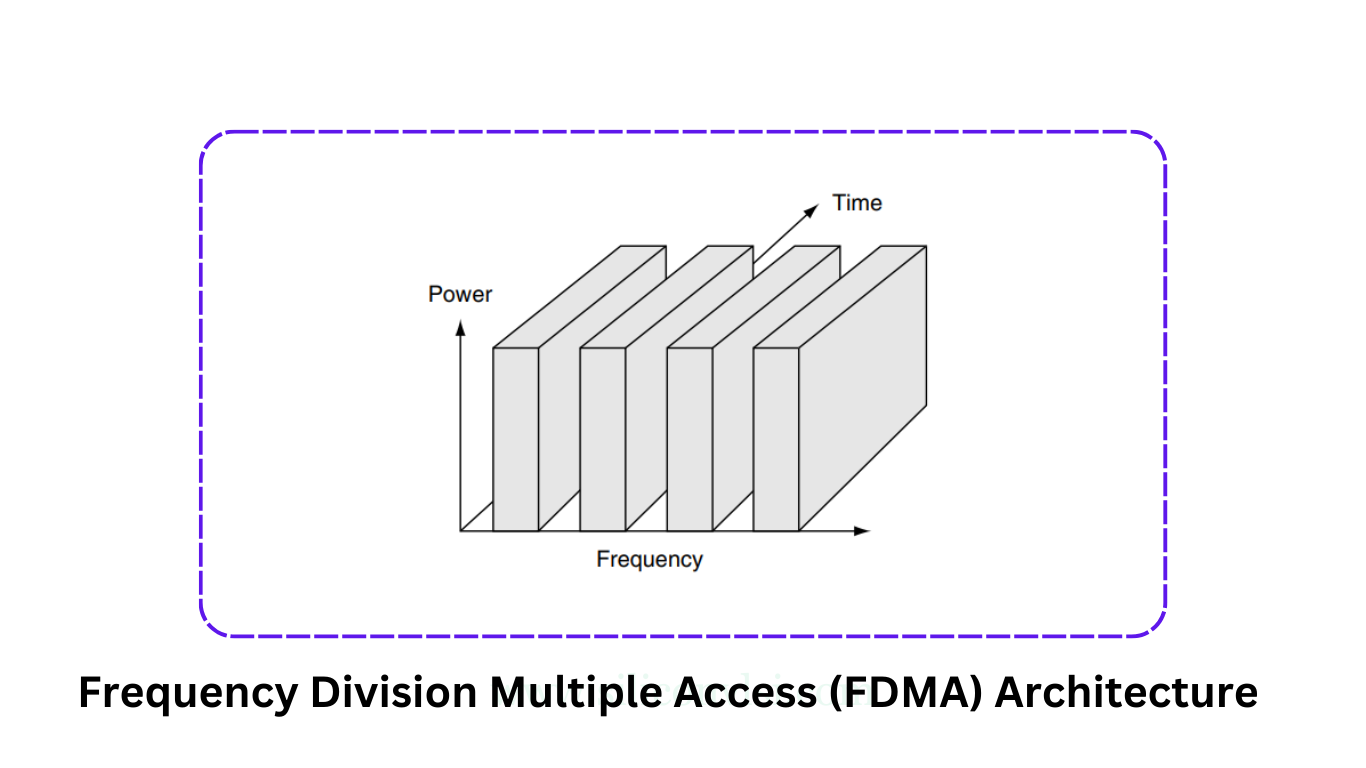 FDMA is utilized by analog systems such as AMPS, NMT, or Radiocom 2000. The advantages and disadvantages of FDMA are outlined below:
Advantages of FDMA
Lower Complexity:

FDMA systems generally have lower complexity compared to TDMA and CDMA systems, although advancements in digital signal processing are impacting this dynamic.

Technical Simplicity:

FDMA is technically simple to implement, making it accessible and straightforward.

Capacity Increase with Bit Rate Reduction:

Capacity can be increased by reducing the information bit rate and utilizing efficient digital codes.

Lower Overhead Bits:
Disadvantages of FDMA
Modest Capacity Improvements:

Only modest capacity improvements are expected from a given spectrum allocation.

Waste of Bandwidth:

FDMA wastes bandwidth, as an idle FDMA channel, cannot be used by other users to increase or share capacity.

Higher Cell Site System Costs:

FDMA systems have higher cell site system costs compared to TDMA systems due to the need for costly band-pass filters at the base station.

Duplexer Requirements:

FDMA mobile units require duplexers since the transmitter and receiver operate simultaneously, adding weight, size, and cost to radio transmitters.

RF Filtering Challenges:

Tight RF filtering is required in FDMA to minimize adjacent channel interference.

Fixed and Small Maximum Bit Rate:

The maximum bit rate per channel is fixed and small, limiting flexibility in bit-rate capability, which may be a constraint for future 3G applications.
In summary, FDMA offers simplicity in implementation but faces challenges such as modest capacity improvements, bandwidth waste, higher system costs, and limitations in bit-rate flexibility. These factors need careful consideration in the design and deployment of FDMA systems.