Silicon
Silicon, a key semiconductor, holds significance as it belongs to the fourth column of the Periodic Table, sharing this characteristic with other elements like Ga, As, Ge, and N. In these elements, only s and p electrons are present in their valence shells. Chemical bonds in silicon and related compound semiconductors involve the sharing or exchange of valence electrons among neighboring atoms, resulting in the formation of tetrahedrally coordinated bonds, with each atom forming four bonds with four nearest neighbors.
In elemental semiconductors like Si or Ge, purely homopolar (covalent) bonds exist, ensuring that electrons shared in a bond spend an equal average time on each atom. Conversely, compound semiconductors, such as GaAs, exhibit partially heteropolar (partially ionic) bonds, where bonding electrons spend a greater fraction of time on the anions (negatively charged atoms).
Crystal structure silicon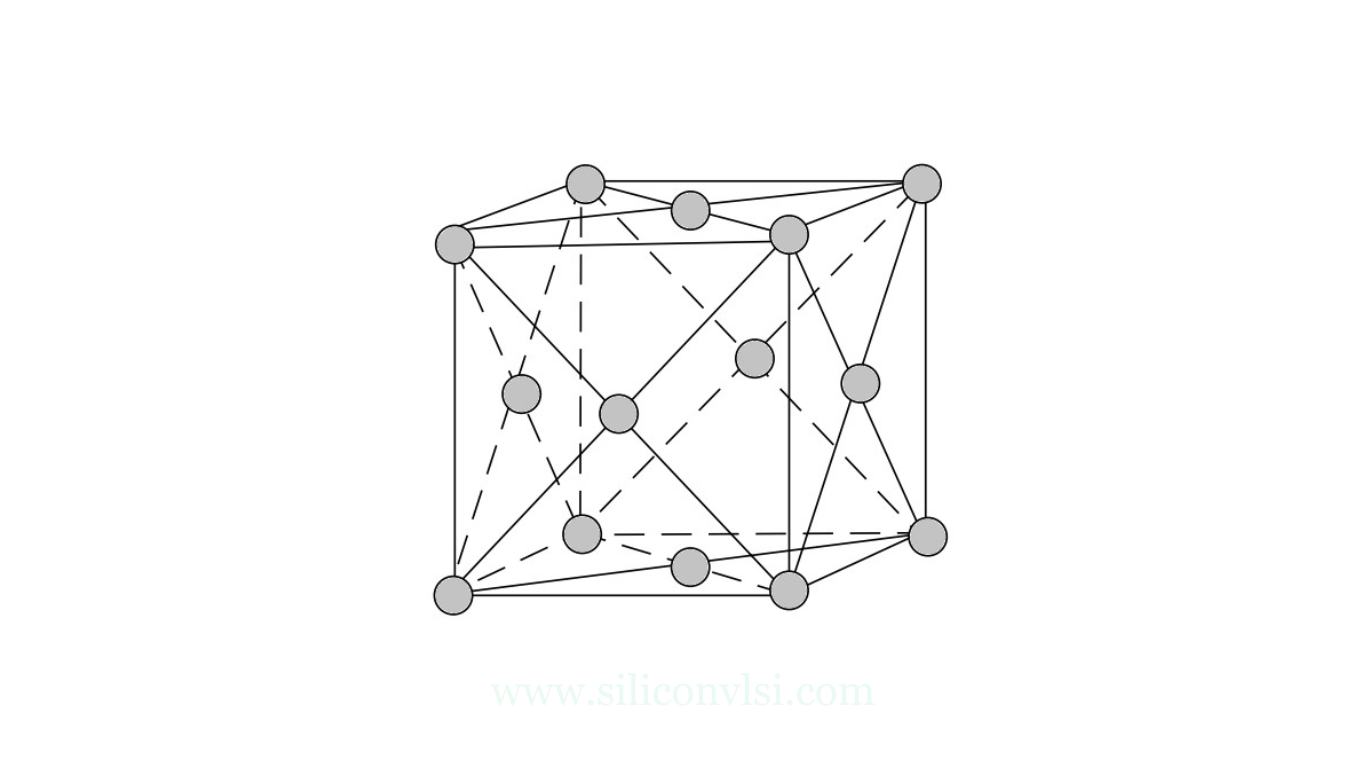 silicon having a diamond crystal structure formed by interpenetrating face-centered cubic sublattices. This arrangement is shared by another important semiconductor, germanium. Many compound semiconductors adopt the zinc blend crystal structure, similar to the diamond structure, offering a diverse range of material combinations. Compound semiconductors like GaAs and AlGaAs can be grown as films to create heterostructures, providing semiconductor device designers with numerous material options.
Faq
How many valence electrons do elements in the fourth column of the Periodic Table have in their valence shells?
Elements in the fourth column of the Periodic Table, such as Si, Ga, As, Ge, and N, have only s and p electrons in their valence shells, which amounts to eight valence electrons in total.
How are chemical bonds formed when atoms are combined in a solid, particularly in silicon and germanium?
In silicon and germanium, neighboring atoms share their valence electrons, having (on average) completed s in the valence shell. Each atom forms four bonds with four other atoms and shares two valence electrons with each of them.
What determines the type of chemical bond in a crystal?
The type of chemical bond in a crystal is determined by the ionicity, which can be quantitatively measured using the ionicity value. A purely covalent bond has an ionicity of zero, while a purely heteropolar bond has an ionicity of one.
Which semiconductors have the tetrahedral bond configuration, and how does this affect their properties?
Many semiconductors, including GaAs and AlGaAs, have a tetrahedral bond configuration. It results in their semiconducting properties.
What is the crystal structure of silicon?
Silicon has a crystal structure where each silicon atom is located at the center of a tetrahedron formed by four other silicon atoms. This arrangement is similar to the diamond crystal structure.
Which crystal structure is commonly found in most compound semiconductors?
Most compound semiconductors have the zinc blend crystal structure, which is very similar to the diamond structure. This structure consists of two kinds of atoms, A and B, forming mutually penetrating face-centered cubic lattices