Twisted Pair Cables
By twisting wires that carry equal and opposite currents, the interference and noise generated by one wire are effectively nullified by the other. This ingenious design ensures a much clearer signal transmission, minimizing disruptions and enhancing overall performance.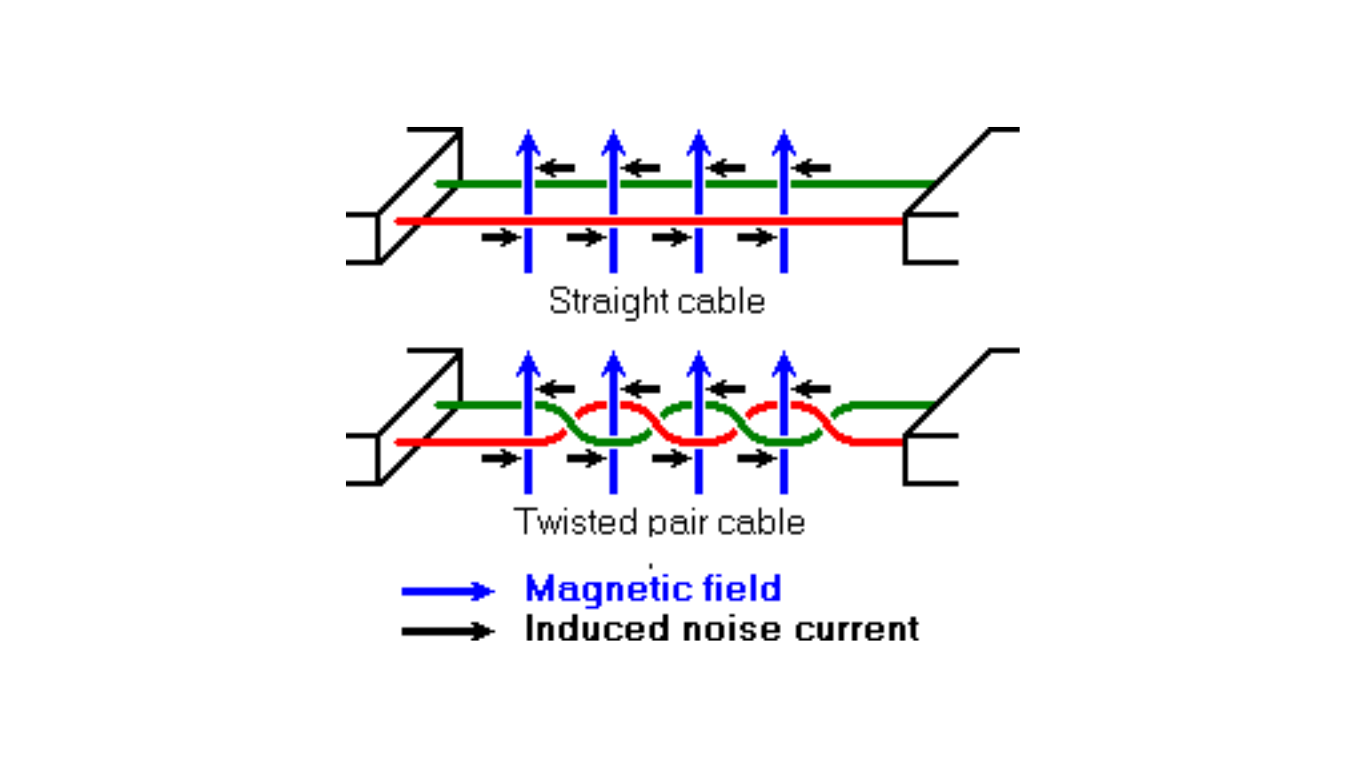 Moreover, twisted pair cables excel in rejecting external electromagnetic interference from nearby equipment, providing an added layer of protection and signal integrity. Learn more about how twisted pair technology works and the significant benefits it brings to modern electronic systems.
Advantages of Twisting the Cables
Prevents electrical noise from entering or leaving the cable.
Minimizes cross-talk between wires, ensuring better signal clarity.
Disadvantages of Twisting the Cables
Susceptibility to electromagnetic interference depends on the integrity of the twisting scheme during installation, leading to specific requirements for pulling tension and bend radius.
In analog video applications with multiple parallel signal wires, twisted pair cabling can introduce signaling delays called "skew in twisted cables." This can result in subtle color defects and ghosting in the displayed image, caused by misalignment of image components during recombination. As a result, it may cause output delay lines.
What are the benefits of twisted pair cables?
Twisting wires carrying equal and opposite currents effectively reduces electromagnetic interference, preventing electrical noise from entering or leaving the cable.
Twisted pairs minimize cross-talk, ensuring that signals transmitted on one pair do not interfere with signals on adjacent pairs, which improves overall signal quality.
Twisted pair cables are cost-effective and readily available, making them a popular choice for various applications.
These cables are flexible and easy to install, allowing for versatility in different networking environments.
Twisted pair cables are widely used and compatible with various devices and systems, making them a convenient option for networking setups.
They can support high-speed data transmission, making them suitable for modern communication requirements.
Twisted pair cables offer better rejection of external electromagnetic interference from other equipment, ensuring data integrity.
The balanced transmission in twisted pairs enables longer cable runs without signal degradation.
When should you use twisted pair cable?
Twisted pair of electrical wires is a cabling technology that finds application in many low-voltage cables, such as audio, security, alarm, and network Ethernet cables. It is used to reduce outgoing and incoming noise generated by electromagnetic interference.
How does twisted pair cable reduce noise?
By twisting wires that carry an equal and opposite amount of current through them, the interference/noise produced by one wire is effectively canceled by the interference/noise produced by the other. A twisted pair also improves the rejection of external electromagnetic interference from other equipment.
Who invented the twisted pair?
Alexander Graham Bell invented the network cabling solution known as "Twisted Pair" or Unshielded Twisted Pair (UTP) in 1881.
Related Posts