Subwoofer Capacitor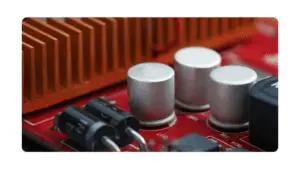 A subwoofer capacitor is an electronic component commonly used in audio installations, such as home and car stereo systems, to address power demands and prevent sudden drops in power. Here are key points about subwoofer capacitors: The function of a subwoofer capacitor is to balance an audio signal and Prevent sudden drops in power.
Design 
Basic capacitor design with two metal plates separated by dielectric.
Dielectric is an insulator.
The voltage difference between plates creates an electric field.
Stored electrical charge dissipates rapidly when connected to a circuit.
How to measure?
The amount of electrical energy storage is measured in farads.
Higher farad capacitors can store more electricity.
Capacities are matched to the electrical demands of audio systems.
Size and Capacity
Use in Audio Systems
Commonly used in setups with large amplified subwoofers for bass.
Addresses the high electrical demand when a subwoofer activates.
Prevents issues like dimming headlights in vehicles with limited power.
Advantages of Subwoofer Capacitor
Limits power drain issues associated with large subwoofers.
Improves the function of audio amplifiers.
Regulates energy demands, reducing strain on the amplifier.
Decreases audio distortion and helps extend the life of the amplifier.
A subwoofer capacitor acts as a buffer, supplying additional electrical energy during peak demand, especially in systems with large subwoofers. This not only prevents power-related issues but also enhances the overall performance of the audio system by reducing strain on amplifiers and minimizing distortion. The size and capacity of the capacitor must be carefully chosen to match the specific requirements of the audio setup.