Sync Cable
A sync cable is a type of cable used to synchronize data between two devices, typically a computer and a mobile device such as an MP3 player, cell phone, or PDA. This cable facilitates the transfer of information from the computer to the mobile device and vice versa. Synchronization is a major process for ensuring that the data on both devices remains consistent and up-to-date.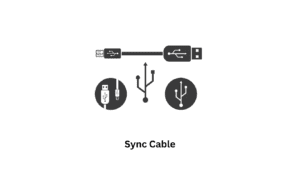 These cables often serve a dual purpose, allowing not only data synchronization but also the charging of the mobile device. Many mobile devices are battery-powered, and charging them while synchronizing with a computer is a convenient way to address both tasks simultaneously. While the sync process typically completes relatively quickly, charging may take longer, requiring users to keep the mobile device connected to the computer for an extended period after synchronization is done.
USB (Universal Serial Bus)
USB (Universal Serial Bus) cables are the most commonly used cables for synchronization. USB ports are prevalent on modern computers and are designed to handle both data transfer and power delivery. Since USB cables are widely compatible and support various devices, they have become a standard choice for sync cables. Additionally, the USB standard ensures that these cables can be used across different devices and computer systems.
What is the use of Sync Cable?
In many cases, the sync cables used for different devices are interchangeable, given the prevalence of USB ports on both computers and mobile devices. Users may find it convenient to have a single cable that can be used for syncing and charging multiple devices. Manufacturers or third-party providers often offer attachments that allow users to plug the cable directly into a wall outlet for charging without needing a computer connection.