Thermal Oxidation
Thermal oxidation plays a important role in forming an oxide layer with silicon on the wafer surface. As this oxide layer grows, it allows oxygen atoms to diffuse through it until they reach the silicon beneath. The growth rate of the oxide layer reduces as it becomes thicker. Research indicates that oxide grows approximately 44% into the silicon from the original surface (equivalent to the amount of silicon used) and about 56% outwards, as shown in figure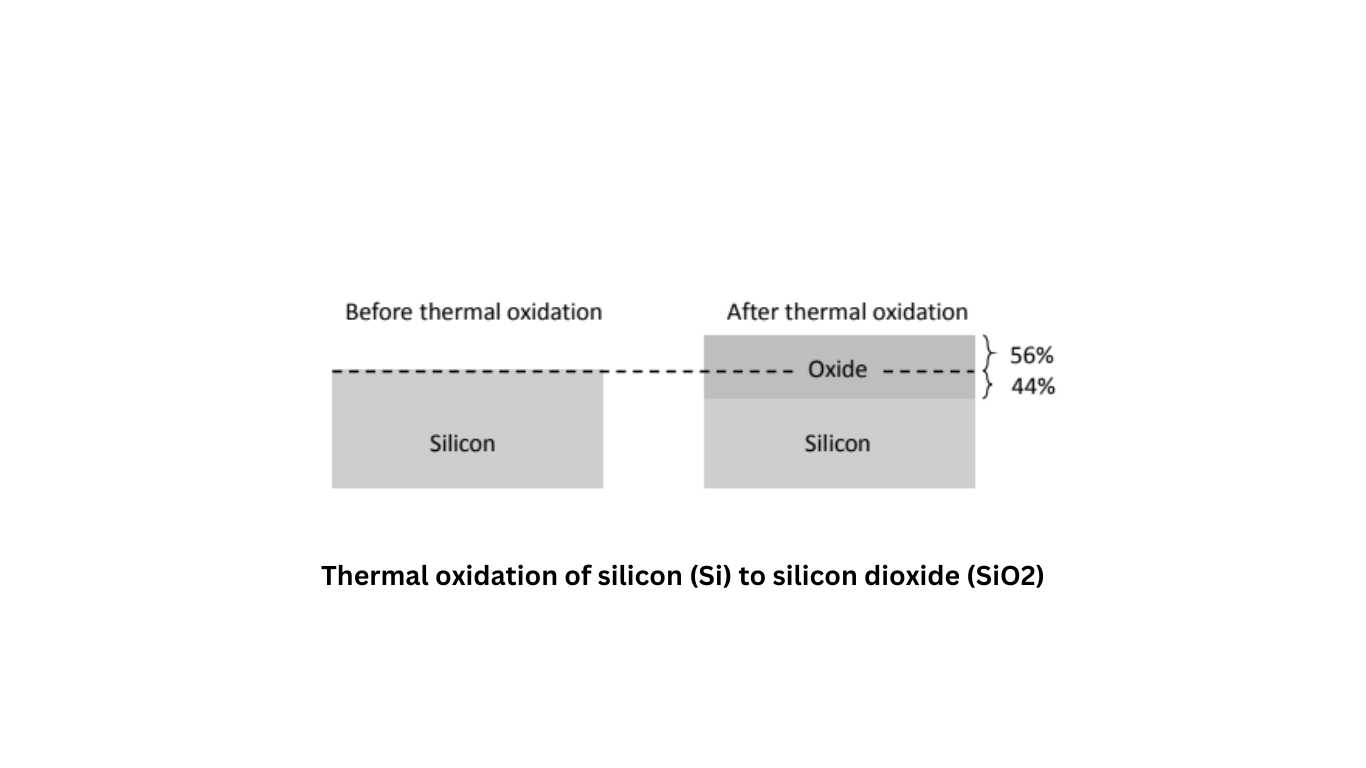 Dry Oxidation: A Precise Process
Dry oxidation involves heating wafers in an oxidation furnace and exposing them to pure oxygen (O2) at temperatures of 1000–1200 °C (approximately 2000 °F). The oxide grows slowly following the formula Si + O2 → SiO2, resulting in high-quality oxide with few vacancy defects. This specific process is commonly used for very thin gate oxides (GOX) in field-effect transistors and for dielectrics in capacitors (Chap. 6).
Wet Oxidation: A Faster Alternative
In the wet oxidation process, oxygen first flows through boiling water, exposing the wafer to steam. The reaction proceeds as per the formula Si + 2H2O → SiO2 + 2H2 at temperatures of 950–1000 °C (approximately 1800 °F). Compared to dry oxidation, wet oxidation occurs at a much faster rate. However, it is more challenging to control and produces a lower-quality oxide. For this reason, wet oxidation finds wider application in producing field oxide (FOX). The field oxide is the first thick oxide layer directly created on the silicon, serving to laterally insulate regions from each other. In earlier processes, the field oxide was only produced in areas without any devices in the silicon. These regions were referred to as "non-active" or "field" regions, hence the name "field oxide."
Enhancing the Thermal Oxidation Process
To enhance the thermal oxidation process and achieve superior oxide quality, several factors must be considered:
Temperature and Time Optimization: Maintaining the right temperature and duration during oxidation is vital. It ensures a controlled growth rate and minimizes defects in the oxide layer.
Purity of Gases and Water: Using pure oxygen and high-quality water prevents impurities from affecting the oxide layer's integrity.
Wafer Cleaning: Thoroughly cleaning the wafers before oxidation removes contaminants that could hinder the process.
Precise Thickness Control: Accurate measurement and control of the oxide layer's thickness are essential to meet specific design requirements.
Advanced Manufacturing Techniques: Employing cutting-edge manufacturing techniques helps ensure the production of superior silicon wafers, which serve as the foundation for successful thermal oxidation.
Thermal oxidation is a vital process in semiconductor manufacturing, allowing the formation of high-quality oxide layers on silicon wafers. Both dry and wet oxidation methods have their advantages and applications, contributing to the production of various electronic components. By optimizing the thermal oxidation process and paying attention to critical factors, manufacturers can achieve better results and deliver top-notch semiconductor devices to meet the demands of the modern world.
Related Posts