IR drop
IR drop is the electrical potential difference between two ends of a conducting wire during a current flow. This potential difference depends on this voltage drop across any resistance is the product of current (I) passing through resistance and resistance value (R). (V=IR).
"IR drops relate to Ohm's Law: Voltage = Current x Resistance"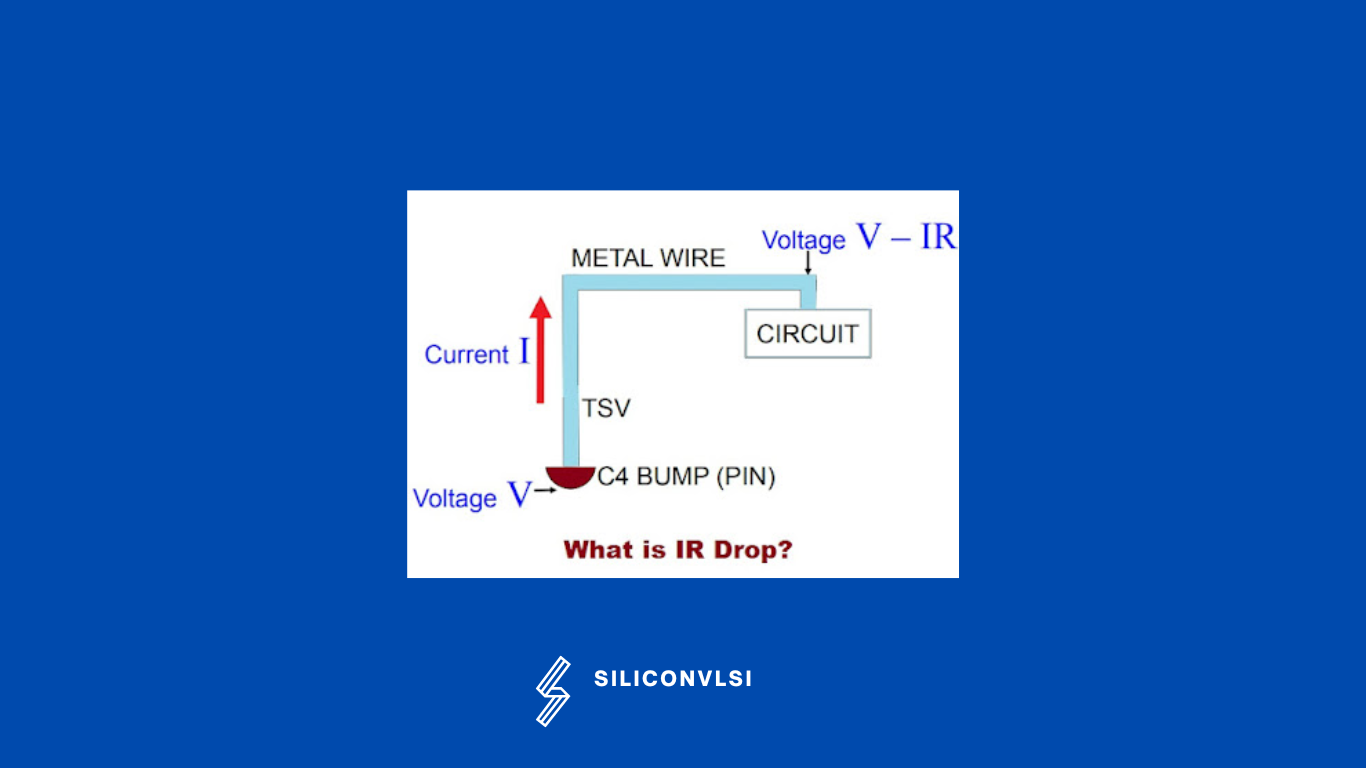 There are two types of IR drops:
Static
Dynamic
Static IR Drop: 
Static IR drop is an average voltage drop for the design and It is dependent on the RC network of the power grid connecting the power supply to the respective standard cells. The average current depends totally on the time period. Gate-channel leakage current is the major reason for the static IR drop.
Dynamic IR Drop:
Dynamic IR drop is a drop in the voltage due to the high switching activity of transistors(Drain output of the inverter). Dynamic IR drop depends on the switching time of the logic and is less dependent on the clock period. Dynamic IR drop evaluates the IR drop caused when a large number of circuitry switches at the same time, causing peak current demand. It happens when there is an increasing demand for current from the power supply due to switching activities of the chip. 
How to reduce the IR Drop-in VLSI?
Use the proper width of Metal according to current density.

Use more parallel metal wire strips

Spread the logic if hotspots are in congested areas.

Add more proper vias 

Use proper CTS structure.

Add buffers if the run length of the wire is too long.

Avoid the jogs in metals

Using clock gating techniques
If you have both IR drop and congestion, how will you fix it?
In this type of Condition, we should  Spread the macros and standard cells, and also we should increase the metal width and the number of straps.
What is the difference between a static IR drop and a dynamic IR drop analysis?
Static IR drop is the voltage drop when a constant current draws through the power network with varying resistance. this IR drop occurs when the circuit is in a steady state. For r
educing the static IR drop, you should increase the width of the power network.
Dynamic IR drop is the drop when the high current draws the power network due to the high switching of the cell(Drain of Inverter). To reduce Dynamic IR drop, reduce the toggle rate or place de-cap cells near high switching cells.
Related Posts