Well Proximity Effect is a layout-dependent effect due to the scattering of ions near the edge of the well during ion implantation while forming well into the substrate
Layout Versus Schematic (LVS) is the class of electronic design automation (EDA) verification software that determines whether a particular integrated circuit layout corresponds to the original schematic or circuit diagram of the design
The layout is an arrangement, plan, or design, especially the schematic arrangement of parts into a given area
Litho-etch-litho-etch (LELE) is a form of double patterning. LELE is also called pitch splitting. In LELE, two separate lithography and etch steps are performed to define a single layer, thereby doubling the pattern density
Lithography comes from two Greek words, "lithos" which means stone, and "graphein" which means write writing a pattern on the stone
Litho-freeze-litho-etch (LFLE) is a form of double patterning. LFLE is also called pitch splitting. In LFLE, two separate lithographies and one etch step is performed to define a single layer, thereby doubling the pattern density
Leakage current is the current that flows through the protective ground conductor to the ground. In the absence of a grounding connection, it is the current that could flow from any conductive part or the surface of non-conductive parts to the ground if a conductive path was available
Latchup is the generation of a low-impedance path in CMOS chips between the power supply and the ground rails due to the interaction of parasitic pnp and npn bipolar transistors
Multiple patterning (or multi-patterning) is a class of technologies for manufacturing integrated circuits (ICs), developed for photolithography to enhance the feature density
Mask is used to define the different regions in the device. Masks are created using data provided by the layout engineer.
Meta-stability is whenever there is setup and hold time violations in any flip-flop, it enters a state where its output is unpredictable. At the end of the metastable state, the flip-flop settles down to either '1' or '0'
MOSFET (Metal Oxide Semiconductor Field Effect Transistor) transistor is a semiconductor device that is widely used for switching and amplifying electronic signals in electronic devices.
The back end of the line (BEOL) is the second portion of IC fabrication where the individual devices (transistors, capacitors, resistors, etc.) get interconnected with wiring on the wafer, the metalization layer.
MOL(Middle-of-line Layers) layers to connect the Front- end-of-line layers (FEOL) like Active and Gate to Back-End-of- Line-Layers (BEOL) like Metal in finFET fabrication below 22nm
Non-volatile memory (NVM) is a type of computer memory that has the capability to hold saved data even if the power is turned off.NVM does not require its memory data to be periodically refreshed. It is commonly used for secondary storage or long-term consistent storage.
NBTI is when an electric field is applied across a gate oxide, and dangling bonds called traps to develop at the Si-SiO2 interface. The threshold voltage increases as more traps form, reducing the drive current until the circuit fails" It is also called an aging effect in VLSI.
Optical proximity correction(OPC) is a photolithography enhancement technique commonly used to compensate for image errors due to diffraction or process effects
Ohmic contact is a low resistance junction that provides current conduction from metal to semiconductor and vice versa. Theoretically speaking the current should increase/ decrease linearly with the applied voltage.
Photo-resist is, when exposed to light, loses its resistance or its susceptibility to attack by an etchant or solvent. Such materials are used in making microcircuits.
Parasitic element is a circuit element (resistance, inductance, or capacitance) that is possessed by an electrical component but which it is not desirable for it to have for its intended purpose
Manufacturing defect is a finite chip area with electrically malfunctioning circuitry caused by errors in the fabrication process
Analog design is part of integrated circuit design and focuses on signal fidelity, amplification, and filtering. Those who perform the function of analog design are qualified electrical engineers. The following information gives you an overview of what analog design
Anneal means heat (metal or glass) and allow it to cool slowly, to remove internal stresses and toughen it.
An active device is any type of circuit component with the ability to electrically control electron flow (electricity controlling electricity). For a circuit to be properly called electronic, it must contain at least one active device.
Active areas are defined as areas where the CMOS transistors are. Fabricated.
Antenna Ratio(AR) is the ratio of total area and/or perimeter of conducting layer attached to gate area or AR = Q(s the total accumulated injected charging to the gate oxide during the etching time) / A(is the area of the gate)
The antenna effect is more formally plasma-induced gate oxide damage, is an effect that can potentially cause yield and reliability problems during the manufacture of MOS integrated circuits.
Bipolar Junction Transistor, or BJT, is a solid-state device in which the current flow between two terminals (the collector and the emitter) is controlled by the amount of current that flows through a third terminal (the base).
A solid-state device is an electronic device in which electricity flows through solid semiconductor crystals (silicon, gallium arsenide, germanium) rather than through vacuum tubes
Body Effect: The change in the threshold voltage of the MOS Transistor because of the non zero bias to the body, means there is the potential difference between source and body is called Body Effect
 Chemical Mechanical Polarization (CMP) is a polishing process, which utilizes a chemical slurry formulation and mechanical polishing process to remove unwanted conductive or dielectric materials on the silicon wafer, achieving a near-perfect flat and smooth surface upon which layers of integrated circuitry are built.
Cross–coupling reactions are those in which two different starting materials, each of which is usually endowed with an activating group, are reacted together with the aid of a metal catalyst.
Capacitive coupling is the transfer of energy within an electrical network or between distant networks through displacement current between circuit(s) nodes, induced by the electric field.
Chemical vapor deposition (CVD) is a chemical process used to produce high-quality, high-performance, solid materials. The process is often used in the semiconductor industry to produce thin films.#
Clock gating is a popular technique used in many synchronous circuits for reducing dynamic power dissipation. Clock gating saves power by adding more logic to a circuit to prune the clock tree. Pruning the clock disables portions of the circuitry so that the flip-flops in them do not have to switch states.
Channel length modulation (CLM) is one of several short-channel effects in MOSFET scaling, CLM is a shortening of the length of the inverted channel region with an increase in drain bias for large drain biases. The result of CLM is an increase in current with drain bias and a reduction of output resistance.
DFM means to improve the yield of the design. Design for manufacturability is the general engineering art of designing products in such a way that they are easy to manufacture.
Design For Testability (or Design for Test, or DFT) refers to design techniques that make products easier to test.
Digital rights management (DRM) is a systematic approach to copyright protection for digital media. The purpose of DRM is to prevent unauthorized redistribution of digital media and restrict the ways consumers can copy content they've purchased.
Double patterning is a technique used in the lithographic process that defines the features of integrated circuits at advanced process nodes. It will enable designers to develop chips for manufacture on sub-30nm process nodes using current optical lithography systems. It will help to reduce the spacing between the same layers
SRAM is Static RAM and is 'static' because the memory does not have to be continuously refreshed like DRA or Dynamic RAM. SRAM is faster but also more expensive and is used inside the CPU. The traditional RAM in computers is all DRAM. SDRAM is Synchronous DRAM. SRAM, or static RAM, offers better performance than DRAM because DRAM needs to be refreshed periodically when in use, while SRAM does not. However, SRAM is more expensive and less dense than DRAM, so SRAM sizes are orders of magnitude lower than DRAM.
Die: Typically, integrated circuits are produced in large batches on a single wafer of electronic-grade silicon (EGS) or another semiconductor (such as GaAs) through processes such as photolithography. The wafer is cut ("diced") into many pieces, each containing one copy of the circuit. Each of these pieces is called a die.
Drain-induced barrier lowering(DIBL) is a short-channel effect in MOSFETs referring originally to a reduction of the threshold voltage of the transistor at higher drain voltages.
Electromigration is the transport of material caused by the gradual movement of the ions in a conductor due to the momentum transfer between conducting electrons and diffusing metal atoms.
Etching is traditionally the process of using strong acid or mordant to cut into the unprotected parts of a metal surface to create a design in intaglio (incised) in the metal. In modern manufacturing, other chemicals may be used on other types of material.
Electrostatic discharge (ESD) is the sudden flow of electricity between two electrically charged objects caused by contact, an electrical short, or dielectric breakdown. A buildup of static electricity can be caused by charging or by electrostatic induction.
Electron-beam lithography (often abbreviated as e-beam lithography) is the practice of scanning a focused beam of electrons to draw custom shapes on a surface covered with an electron-sensitive film called a resist ("exposing").
FinFET also known as Fin Field Effect Transistor, is a type of non-planar or "3D" transistor used in the design of modern processors.  As in earlier, planar designs, it is built on an SOI (silicon on insulator) substrate.
Fully Depleted Silicon on Insulator (FD-SOI) technology relies on an ultra-thin layer of silicon over a. Buried Oxide (commonly called BOx). Transistors built into this top silicon layer are Ultra-Thin Body devices and.
Front-end-of-line (FEOL) is the first portion of IC fabrication where the individual devices (transistors, capacitors, resistors, etc.) are patterned in the semiconductor. FEOL generally covers everything up to (but not including) the deposition of metal interconnect layers.
Back end of line (BEOL) is the second portion of IC fabrication where the individual devices (transistors, capacitors, resistors, etc.) get interconnected with wiring on the wafer, the metalization layer. Common metals are Copper interconnect and Aluminum interconnect.
Gate–induced drain leakage (GIDL) is caused by the high field effect in the drain junction of MOS transistors
Contact printing is that the resulting print is the same size as the original, rather than having been projected through
Proximity printing had poorer resolution than contact printing (due to the gap allowing more diffraction to occur) but generated far less defects. The proximity exposure method is similar to contact printing except that a small gap, 10 to 25 microns wide, is maintained between the wafer and the mask
Projection printing is a photographic print made by projecting the image of the negative upon light-sensitive paper — compare contact print.
Random dopant fluctuation (RDF) is a form of process variation resulting from variation in the implanted impurity concentration. In MOSFET transistors, RDF in the channel region can alter the transistor's properties, especially threshold voltage.
Sheet resistance is a measure of the resistance of thin films that are nominally uniform in thickness. It is commonly used to characterize materials made by semiconductor doping, metal deposition, resistive paste printing, and glass coating.
Silicon-On-Insulator(SOI) is a semiconductor fabrication technique developed by IBM that uses pure crystal silicon and silicon oxide for integrated circuits (ICs) and microchips.
Subthreshold conduction or subthreshold leakage or subthreshold drain current is the current between the source and drain of a MOSFET when the transistor is in subthreshold region, or weak-inversion region, that is, for gate-to-source voltages below the threshold voltage.
Triple patterning: The two main choices for 10nm are triple patterning based on a series of lithography and etch steps (LELELE) and self-aligned double patterning (SADP), which uses chemical techniques to wrap the material around a source element that is defined by the mask.
The threshold voltage, commonly abbreviated as Vth or VGS (th), of a field-effect transistor (FET) is the minimum gate-to-source voltage differential that is needed to create a conducting path between the source and drain terminals.
Tunneling in MOS structures with ultra-thin oxide (< 4 nm) during which electrons from the conduction band in the semiconductor are transferred across the oxide directly (i.e. without changing energy) into the conduction band of metal; probability of direct tunneling is a very strong function of the width of the barrier electron tunnels through (oxide thickness in MOS devices)
A transmission gate, or analog switch, is defined as an electronic element that will selectively block or pass a signal level from the input to the output. This solid-state switch is comprised of a pMOS transistor and nMOS transistor.
Hot carrier injection usually refers to the effect in MOSFETs, where a carrier is injected from the conducting channel in the silicon substrate to the gate dielectric, which usually is made of silicon dioxide (SiO2). The hot electron effect is caused by high electric fields in short channel MOSFETs. High electric fields result in high kinetic energy of electrons and some electrons may get enough energy to overcome the barrier between the body and the gate. This leads to deposition of negative charge on the gate which leads to an increase in threshold voltage by increasing flat band voltage.
IR drop: the voltage drop due to energy losses in a resistor.
Reverse leakage current is also known as "zero gate voltage drain current" with MOSFETs.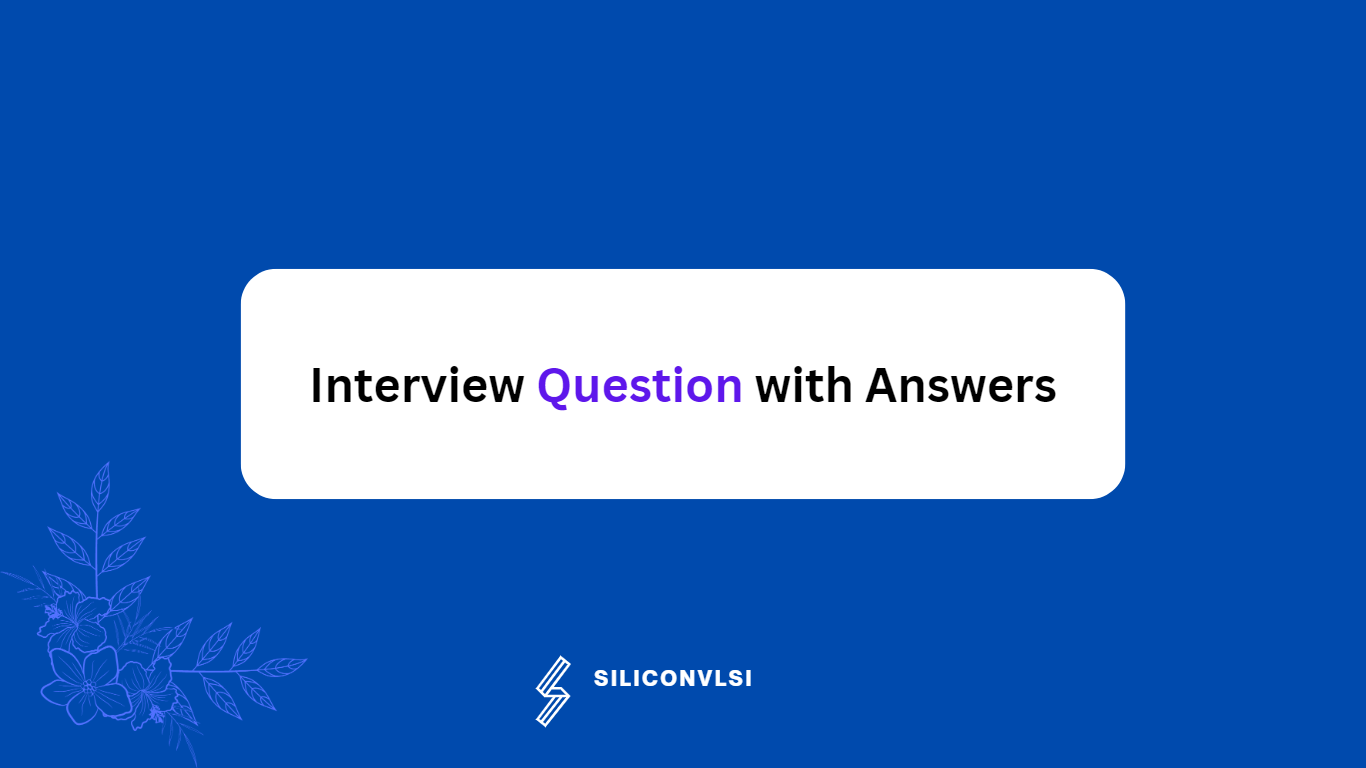 You may also like the following post
Analog Layout Interview Questions
VLSI Interview Questions with Answers
Physical Design Interview Questions
Digital Electronics Interview Question
Memory Circuit and Layout Design Interview Question
Difference between Layout and Schematic
Difference between ram and rom
Why does 32-bit called x86 while 64-bit called x64
Why is polysilicon used as a gate contact instead of metal in CMOS?
Related Posts